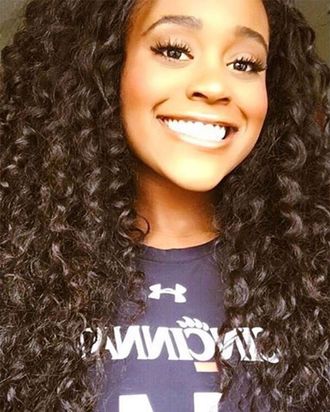 Shalom Ifeanyi.
Photo: Shalom Ifeanyi/Google+
Days after former New Orleans Saints cheerleader Bailey Davis went public about what she claims were gender-based discriminatory social-media policies, 19-year-old college student Shalom Ifeanyi has shared her own story of social media–based sexual and racial discrimination.
According to Ifeanyi, University of Cincinnati head women's volleyball coach Molly Alvey allegedly "harasse[d] and shame[d]" her from January to June 2017 over photos posted to her Instagram account, which Alvey called "too sexy." She continued to text Ifeanyi about removing photos from her account, at one point reportedly texting, "When the football players see this, what do you think they see? They see your breasts. It's seductive."
In texts she shared to People, Ifeanyi writes Alvey:
"Ok Coach However I feel like I'm being body shamed because I'm not flat chested. I'm not trying to show my boobs coach, I can't make them go away … There is a history of black women because of their bodies being sexualized and that's what appears to be happening to me."
Ifeanyi then claims that days later, Alvey kicked her off the team, which led to her losing her athletic scholarship and her student-athlete dorm.
Though she filed a Title IX complaint against Alvey and executive senior associate athletic director Maggie McKinley, Ifeanyi is now suing them and the University of Cincinnati, which she claims has not investigated her complaint.