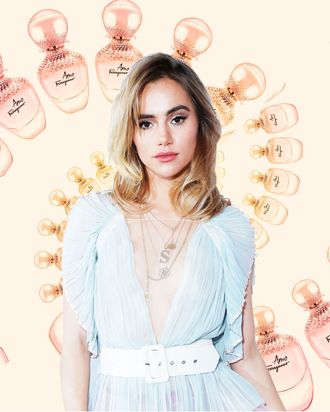 Suki Waterhouse.
Illustration: Stevie Remsberg
Call it the Proust effect: Memories are best triggered by smells. Scientific studies confirm that out of all the senses, smells, and fragrance offer the best recall. Our new feature, Scent Memories, will ask its subjects to talk about the scents they associate with different emotions and thoughts. First up, the model Suki Waterhouse, who's become something of a British style icon since she arrived on the scene (attached to Bradley Cooper's arm) in 2013. She's now partnering with Salvatore Ferragamo for the new fragrance Amo. The name, which means "I Love," comes across as more playful than sultry. The fragrance, with notes of blackberry, sandalwood, and jasmine, is available now. Waterhouse spoke to the Cut about her favorite scents, including delivery food, river water, and melted chocolate.
My first scent memory: I would have to say is the smell of the River Thames. It's a muddy, earthy smell. I kind of grew up on the river. We'd run down there, with our Wellies on, and get covered in mud. We'd also try to go rowing.
The smell I associate with love: The tuft of hair on the back of a baby. Like, my brothers and sisters had that. It makes me want to eat the child, just so much love that you have to restrain yourself. I'm eight years older than my siblings so I remember a lot of them growing up.
Happiness smells like: Macaroni and cheese. I wouldn't say I would be home making it, that would be a lie. Something from Postmates, something really cheesy. I think I used to eat mac 'n' cheese a lot when I was younger. We used to have a lot of cauliflower cheese with bread crumbs. It reminds me of my mum's cooking and yummy meals.
Heartbreak or loss smells like: The smell of new jeans. Just like the smell of new things, new bed sheets and linen.
Regret smells like: The smell of a fire. Staring into the fire while I'm camping and just contemplating the deep regret. When I've taken myself so far away from normal life, I'm usually fireside on a mountain and just spiraling near the flames, basically.
Sunday morning smells like: It would smell like coffee brewing. It might smell like some delivery food from the night before. The excess of last night, some spaghetti smell. Do you ever go past a shop you've delivered from and you've never seen the actual shop in person and you're just like I would never go in there in real life?
If you could have one smell on your hands forever, what would it be and why? That's a really big question. I'd have to really stick with it for a long time. Maybe, like, melted chocolate. Like Cadbury's Orange melted chocolate. I used to put a chocolate bar on my parent's oven and just let it melt and just eat it off as it's melting. It would probably rub into my hands quite well.
Friendship smells like: My favorite times with my friends are going off on trips or I love walking through cities with friends for four or five hours just strolling. The smell of fresh air, clean air. If I'm around clean air, I'm usually with a friend.
A pleasant surprise smells like: Delicious-smelling airplane food where you're like this should be gross, but this is actually great.
I smell like: I don't really know. Nobody has ever described it to me. Right now, I probably smell like warm bread from this hotel I'm staying in, and I ate chocolate raisins last night, so I probably smell a bit chocolaty. I can only guess.
Monday morning smells like: What does hope smell like? Shampoo. You're washing it all off. Don't you just love that? The newness and hope.