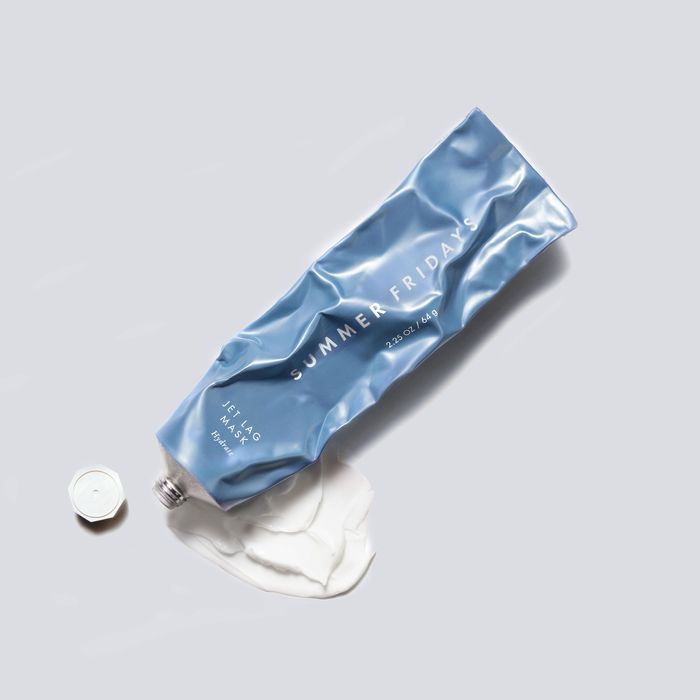 Photo: courtesy of Summer Fridays
Best friends used to exchange heart necklace halves. Now you can start companies together and build a new version of the American dream, begot through the filters of Instagram. Beauty influencers Lauren Gores Ireland and Marianna Hewitt are good friends and the co-founders of Summer Fridays, a new beauty brand that's already popped to the top of Sephora's best sellers. Both Libras from the Midwest, they worked as TV hosts after college, and started their blogs around the same time.
With their joint Instagram audience of about 860,000 followers, their first product Jet Lag Mask, has been carefully designed to dominate your feeds and Sephora shopping carts. A face mask was chosen as the launch product, because it's fun, demonstrable, and shareable, in the way that say, a neck cream isn't. "I love the social element of putting on a mask," says Ireland. "On Instagram, no one is putting on their eye cream for fun," Hewitt added.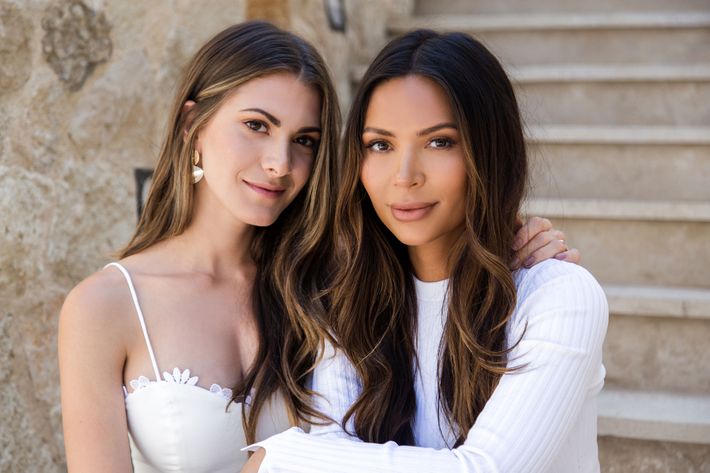 Their audience served as their focus group. "Is this cruelty-free? Is this vegan? Is this paraben-free?" Hewitt said, ticking things off what her followers asked for. The mask is all those things, and a "natural" product, free of sulfates, synthetic dyes, fragrances, and parabens. It's even TSA friendly (under 3 ounces), and offers more product than a traditional face mask (GlamGlow's GravityMud for example, is 1.7 ounces). With its soft pastel blue color and toothpaste-like tube designed to never roll off the table as you're just about to get the perfect flatlay or plandid, it's also designed to be extremely photogenic and look great against marble or artfully scattered rose petals.
Containing chestnut extract, a unique ingredient for plumping skin that also gently exfoliates, the mask also contains other moisturizers and skin revitalizers including Vitamin C and green tea. A rinse-free mask (you can wipe it off with a tissue), with the texture of a thick, creamy moisturizer, it goes on white at first and then becomes practically invisible over time as it sinks into the skin. Ireland and Hewitt say you leave it on for a few minutes, or even sleep in the mask or apply makeup over it for a super smooth application
Despite only being available for sale this week on Sephora's site, the mask is already among perennial top sellers such as Drunk Elephant's Sukari Baby Facial. But does it work? Select VIB Rouge customers who received the product last week approve. Jet Lag Mask has only seven reviews online, but nearly all of them are five-stars, raving about how it has surpassed Instagram hype. One reviewer said the mask had such a noticeable effect on her dark eye circles that "[her] grandma asked what I was using."
You'll be seeing more of Summer Fridays, regardless of your company's summer work schedule, with more masks coming via Hewitt and Gores's ambitious plans. "We know we can push sales. [Lauren and I] work with brands all the time. [It was] time to do it for ourselves," says Hewitt.
If you buy something through our links, New York may earn an affiliate commission.