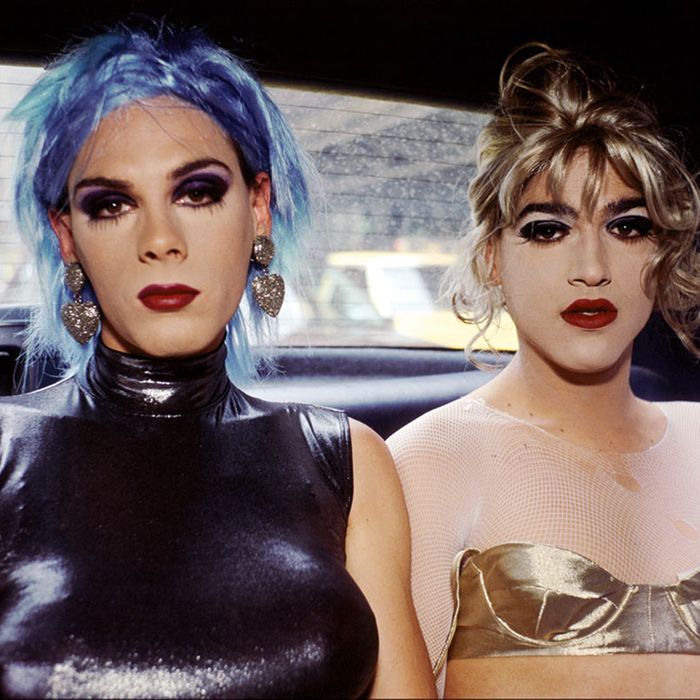 Jimmy Paulette & Misty in a Taxi, NYC
by Nan Goldin.
Photo: Nan Goldin/Courtesy of Supreme
Supreme has collaborated with everyone from Hanes to APC to Louis Vuitton. So … is it even possible for them to throw a curveball anymore? Yes, it turns out. The streetwear giant announced today that they are collaborating with photographer Nan Goldin, who is known for her exploration of queer culture and the AIDS and opioid epidemics.
Some of her most popular pieces, including Jimmy Paulette & Misty in a Taxi, NYC and Nan as a dominatrix, Cambridge MA 1978, will be re-created on sweatshirts, anoraks, skateboards, and T-shirts for Supreme. This isn't the first time she's collaborated with a major brand (she shot a campaign for Jimmy Choo), but she told British Vogue she did it for the kids' edification.
"I'm looking forward to seeing teenagers skating on my images and wearing them," she said. "To my mind, people have become so conservative, especially the millennials – its like the 1960s never happened – so I like the idea of them being exposed to my real world."
Supreme agreed, and said that they want to "celebrate the diversity her work represents and expose young people to it."
So, in addition to their new Louis Vuitton c/o Virgil Abloh merch, expect catch the Cool Teens wearing sweatshirts with gorgeous drag queens on them as well. Goldin told Vogue that she couldn't wait to wear it, either. The Nan Goldin x Supreme spring/summer 2018 collection will drop on Thursday, March 29. Go ahead and buy it for the kids.