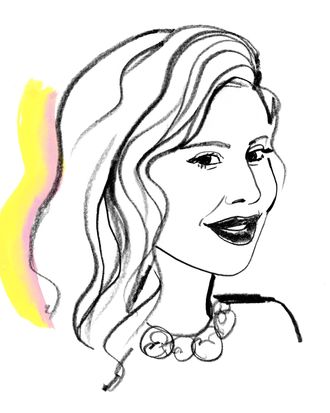 Tara Lipinski.
Illustration: Lauren Tamaki
Alongside her co-host and BFF Johnny Weir, Tara Lipinski's refreshingly candid Olympics commentary has helped breathe new life into the sport of figure skating. Fresh off the plane from South Korea, the Olympic gold medalist turned commentator talks to the Cut about her daily routine in Pyeongchang, her unique partnership with Weir, and how she manages live-TV pressure. She also dishes on Nathan Chen's "disastrous" program, the intense gold-medal showdown between Evgenia Medvedeva and Alina Zagitova, and how she felt about I, Tonya.
On her morning routine in Pyeongchang:
We woke up around 5 or 5:30 a.m. every morning. The night before, I'd lay everything out and I would wake up literally eight minutes before Johnny would come knock on my door. Johnny and I room next to each other and we always do everything together; it's so nice to have your best friend along for the ride. I'd brush my teeth, put on a hat — I had my bag of clothes prepared — and then we would head over to the venue to start hair and makeup. It would always be a little frantic while I was getting my hair and makeup done, because at the same time I was getting prepared and working with a researcher and making sure I had all my notes and information on hand. No matter how much time I had, it it always felt like a mad dash.
On preparing for air time: 
We have this thing we call the Binder — it's kind of ominous: the Binder — because there's just so much information in it. When I was done with the Olympics, at first I was like: I'm throwing away the Binder, I cannot see this binder ever again! But obviously I ended up taking the binder home as a keepsake. It's huge. It's the biggest binder you've ever seen. That's where I keep all my notes, all my research, all the bios on the skaters, and where I find articles and quotes about what happened the day before.
On creating good drama:
Each day we would have a production meeting where we'd sit with the whole team and we'd run through the format of the show, and talk about the story lines and what direction we wanted to go in. Because it's more than just analyzing one program or skater at a time. It's really about storytelling in hopes of having the audience and the viewer become invested in each skater's story line, even if they're not out to win a medal. So if it's the Kazakhstan skater and we know that mother teaches her, it's like, is there an interesting story there? Or her story of dealing with injuries all year? You kind of have to break down each athlete. I think that's what makes for good broadcasting and analysis; it's more than just calling out what you see.
On this year's most compelling Olympics narrative:
The two Russian skaters who won silver and gold, Evgenia Medvedeva and Alina Zagitova, were a really interesting story. As a skater, I almost couldn't imagine being in their positions. The interesting part of that is they train under the same coach. I spoke to their coach, and she opened up to me about how Evgenia's really struggling with the fact that she lost this event and struggling with confidence whereas Alina's so young and she's more excited to see the McDonald's in the Olympic Village than really knowing that she's at an Olympic Games. It was fascinating to see two skaters that were equally good, looking at the Olympics through different eyes, yet who both have such magic to their skating and are fierce competitors.
On whether Medvedeva-Zagitova reminded her of Lipinski-Kwan:
Because Alina was 15, I thought that I would relate to her in such a unique way because it was pretty similar to what happened in '98. But, at the same time, it's very different because Michelle and I had two and a half years of rivalry where we would go back and forth, competition after competition. There was quite the buildup. It's so different than this rivalry just because Alina was a junior and five months ago, no one even knew her name. Maybe it's just a testament to her talent, but she came on the scene so quickly and so abruptly it was hard for me even to understand how she was able to do it.
On the importance of being honest:
We definitely heard that some people thought we were harsh. But it didn't change our outlook one bit. At the end of the day, we're commentators and we're not there to compliment the skaters if something goes wrong. You're not there to sort of smokescreen anything. I think if you look at any other sport, whether it's football or basketball, your analysts and commentators are telling it like it is. We've been in that position as skaters and we definitely know what these skaters are going through, and we have that compassion, but our job is to give the viewers an honest account of what's happening on the ice and what it means for the skater.
It was 100 percent heartbreaking and devastating to watch Nathan Chen; you work your entire life and in the matter of four minutes, with one wrong flip of a quarter-inch blade, all of those dreams can be crushed. But at the end of the day, it was a disastrous skate for someone like Nathan, who was going to possibly win the gold medal, and I think you have to have that honesty and transparency. If we're not honest, we're only doing a disservice to our viewers and what's the point? At the end of the day, if someone falls three times, we can't just compliment them and say, oh it doesn't matter, they're still a great skater.
On discipline:
When I have children I want them to try sports, because I think there is something great about learning discipline at a very young age, learning on your own what you love, and if you love it, what it takes to be good at something. The hard work in many sports — especially figure skating — when you get to a certain level, it has to come from within. You can have coaches that are pushing you and you can have parents that are pushing you, but really it comes from you. You just kind of learn what it takes to be successful, and I think that's something that I've carried with me and applied to almost anything else I do in my life. Even with commentary or analysis, I want to be the best analyst I can be, and I want to find every bit of information and every quote and do as much homework as I can to have all of it on hand if I want to use it. That takes time and that takes hard work. I think that growing up in figure skating and competing as an elite athlete sort of taught me all those skills that I apply now.
On learning to handle pressure:
I remember as a 13-year-old sort of being thrown on the scene at a senior level sort of crumbling under pressure, and so I worked with a sports psychologist. I wish I knew back in the day — because I would doubt myself so much — what I have realized now from working on live television. Which is that the higher the stakes, the better I'll perform, and I love that pressure.
On figure skating's reputation for cattiness:
It's not to the extent of what many people think back to of 1994, [with Tonya Harding and Nancy Kerrigan]. But it is an individual sport, and out of all of these skaters, there's only one that's gonna win a gold medal, and that's usually one of the biggest dreams for most skaters when they start out skating at 7 or 8 years old. And when you think of all the skaters in the world that are looking for that one gold medal that comes once every four years, and it comes down to timing, and it comes down to your age, and injury, and there's so many variables, you have to just put your blinders on and be competitive. So I think it's more of just this focused mentality of: I don't need to talk to anyone else, I've gotta do my job. And if someone's better than you, you have to find a strategy of what makes you better, and so that does create a very competitive atmosphere. In a way it's kind of lonely, and that's why I enjoy so much what I have with Johnny.
On why she and Johnny make such a great team:
Coming from a sport where we were in an individual event and there was no team aspect, for some reason we both immediately craved that and trusted each other. We grew up in a world that many people wouldn't understand. Even when I tell my husband some things, I feel like until you've lived it and gone through it, you can't quite get it. Beyond that, I think we look at skating with a very similar outlook, where we are not afraid to speak our opinion and tell it like it is. If we see something the judges are doing, or making a call or giving a score that we think is not right, we're not afraid to call it out. There's always so much laughing that happens, or Johnny will say something and I will have to hit the cough button and, like, pull myself together while we're on live television because, you know, there's the inside joke that he just said and I'm dying.
What she thought of I, Tonya:
I look at that movie as entertaining and as a great movie, but as a skater, the only thing I always say is that there is something to sportsmanship. Skaters give up their lives. Nancy Kerrigan gave up her life for the sport, and her dream was to be at those Games in 1994 and hopefully win a gold medal. So, you know, I know that there's many athletes from all different walks of life and that have traumatic relationships and experiences, but again, at the end of the day, the playing should be done on the field.
On always being on the go:
Everyone sees us once every four years at the Olympics, but then we come home and there's so many other projects that we're working on that my day-to-day is still pretty busy. You can ask my assistant, she's always like, "I don't know how you do it, Tara. You're just nonstop, like, your brain never shuts off." And, in a way, it doesn't. I feel like I'm very ambitious. I take on as many things as I can and always have new ideas, and want to venture out and try new things, so I feel like my days are filled with that.
On finding balance:
As much as I love to work and be busy and I'm always traveling and my schedule's kind of insane, I have such a strong urge to balance that out and have a normal life and spend time with my husband. It's so important to me to wake up in the morning and, have what we call "coffee time," where we have coffee together. And we definitely block off all of our nights to spend together. I try to get done with work as soon as I can, just because I'm so excited — I still get those butterflies — to see Todd. Either we have a date night or we're bingeing Netflix or whatever it is. I think as much as I love skating, love everything that I've accomplished, love working in television, being married trumps all of that, and it's been really nice to have that balance.