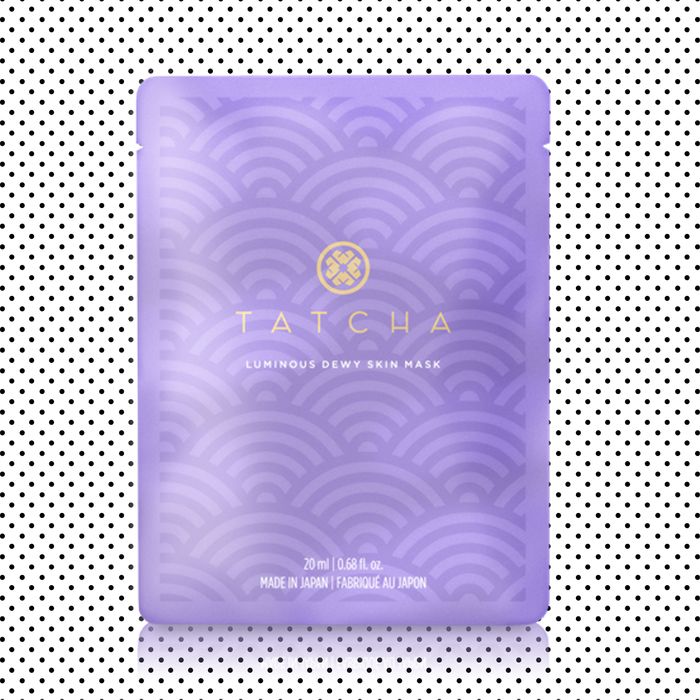 Photo: courtesy of Tatcha
Tatcha has quickly become known as the brand that sells the best primer, but that doesn't mean it's not still focused on its bread and butter: skin care. The Japanese-inspired brand's new sheet mask is a modern iteration of leftover kimono silks steamed and soaked in brewed botanic essences, which Japanese women then applied to their faces to deliver maximum moisture and vitamins to their skin.
The serum in the Luminous Dewy Skin Mask package is infused with wild thyme (supposedly pollution-protecting), sweet marjoram (allegedly hydrating and bacteria-killing), ginseng, and rice germ oil, which is full of Vitamin E and hydrating fatty acids. It also uses a fermented elixir of green tea, rice, and red algae. The algae is harvested from a lagoon in Okinawa and gently dried in the sun to preserve its moisturizing nutrients. (The biggest difference between the new mask and Tatcha's Luminous Deep Hydration Lifting Mask is that this one is botanical-oil based while the Lifting Mask is oil-free.)
The Dewy Mask feels silky, much nicer than your run-of-the mill sheet mask. Plus it's flexible, light, and thin — the mask fits snugly, so there's no need to lay motionless while the serum does its job.
Tatcha created the mask as an ideal middle step between cleansing and spritzing Tatcha's Luminous Dewy Skin Mist, which uses the same formula, but is less concentrated than the mask. The Luminous Dewy Skin Mask is available now and is sold individually or as a set of four.
If you buy something through our links, New York may earn an affiliate commission.