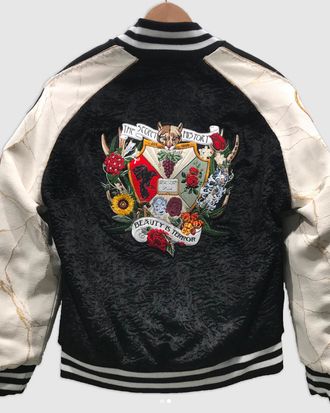 Photo: god_save_the_misanthropes/Instagram
There are many reasons to be envious of Tavi Gevinson. She was the editor of a successful magazine by the time she was 15. She's friends with Willow Smith and Lorde. She gets paid to post #sponcon of her own apartment. Yet I've never been more jealous of Gevinson than I was yesterday, when she posted a photo of the custom Secret History letterman jacket that Instagram user @god_save_the_misanthropes handmade for her after they met on a New York subway platform.
Fans of Donna Tartt's cult novel — and if you're not, what are you waiting for? — will note that the jacket is full of amazing details, like patches featuring Mount Cataract and the 'Hampden College Deerslayers,' various Greek letters, a Henry name tag, and a library card featuring the names of all of the book's principal characters. It also looks delightfully worn-in and cozy — perfect for a wintry weekend up at Francis's country home or mornings spent trudging through the snowy Vermont woods searching for the body of the friend you murdered after an orgiastic rite gone wrong.
Forget unlimited weight-loss tea or free beauty products: Custom-made jackets of your favorite campus novel are the ultimate lit-influencer perk.