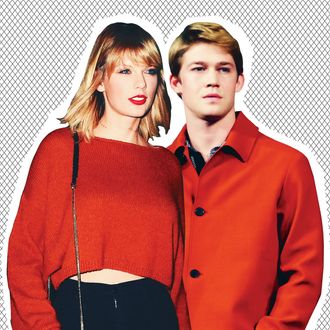 Taylor Swift and Joe Alwyn.
Photo: Getty Images
Next time you find yourself wondering where Taylor Swift and her very-secret British boyfriend Joe Alwyn might be, perhaps you should look no further than your local woods, as the more-private-than-private pair were recently spotted together in the wilds of Malibu.
In pictures published exclusively by E! (check them out here), the newfound falconer is seen holding onto the arm of her iPod-owning boyfriend during a Wednesday hike in Malibu. Apparently the pair traversed the tough Californian terrain for an hour and a half while she donned workout attire and he, jeans and a T-shirt.
"Taylor looked quite exhausted from the hike but she looked very close to Joe, holding on to his arm and holding hands," an onlooker told E! "They seemed very at ease with each other and relaxed. It's a very scenic hike where you can enjoy amazing views over the ocean. They hiked for a total of 90 minutes."
Of course, this isn't the first time Swift and Alwyn have touched limbs in public. Back in December, they were holding hands all over the place at Madison Square Garden. And in the new pictures, Swift appears to be wearing the "J" (for Joe!) initial necklace she sings about in one of her songs. The onlooker also said the couple spent the hike "in conversation" and appeared to be in a "good mood and … relaxed."
Can't wait for the very-secret couple's next inevitable spotting in the woods of Central Park.