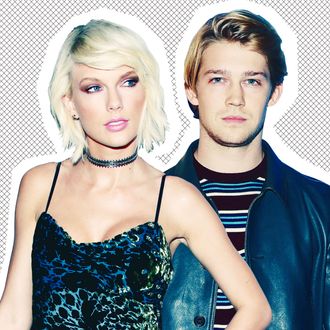 Taylor Swift and Joe Alwyn.
Photo: Getty Images
We all know about Taylor Swift's secret relationship with iPod-owning British actor Joe Alwyn at this point (they even officially held hands and swayed together at a concert publicly). But have you wondered just how Swift is able to keep her secret relationship so secret? Well, it turns out having a private jet helps.
An "insider" exclusively told E! that the 28-year-old pop star actually visits Alwyn, 27, in London a lot more than any of us realize (we're fools!). "Taylor has been in the U.K. a LOT more than people know," the insider told E! (emphatically). "She has the entire routine down pat now."
Basically, Swift is able to visit her boyfriend under the radar (sorry) by by flying to the U.K. in a private jet that lands at a private airfield. She doesn't use any terminals and her passport is checked onboard. Then, she's driven straight to Alwyn's place in North London "in a fairly nondescript blacked-out car" that meets her on the tarmac.
And when she's in London, the couple just hangs out at Alwyn's home instead of going out in public. "Unless you're part of her inner circle, you wouldn't know when she is or isn't here," the source told E!, since Swift "barely leaves a trace."
How sneaky!