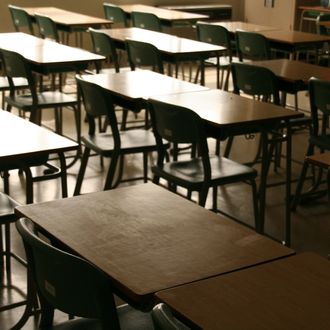 Photo: Fumie Kobayashi/Getty Images
Following the Marjory Stoneman Douglas school shooting in Parkland, Florida, last month, there have been increased calls for stricter gun control. Conversely, there have also been increased calls to arm teachers, including by our president. For those who think that's a good idea, here's a story out of California about a teacher who brought a gun into the classroom and ended up injuring three students in the course of the lesson.
Per KSBW, the incident happened on Tuesday afternoon at Seaside High School in Dennis Alexander's administration of justice class. For a lesson on gun safety, he brought a semiautomatic handgun into the classroom (which is not legal in California). While he was checking to see if it was loaded, it unexpectedly went off — the bullet ricocheted off the ceiling and ended up injuring three students. Though none of them sustained "serious injuries," per the school, one 17-year-old ended up with bullet fragments in his neck.
President Trump has previously emphasized that he'd only want "highly trained" teachers to possess guns — so it's worth mentioning that Alexander is also a reserve police officer with his local police department. He's been placed on administrative leave there, and also from his teaching job.