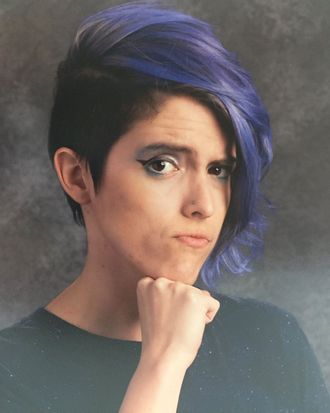 Stacy Bailey.
Photo: Stacy Baily
An elementary-school teacher in Texas has been suspended* since September after she allegedly discussed her sexual orientation with her students, the Dallas Morning News reports.
School district officials claim that they received parental complaints about Stacy Bailey, 31, who teachers art at Charlotte Anderson Elementary in Mansfield. In a statement, they claim that she "insists that it is her right and that it is age appropriate for her to have ongoing discussions with elementary-aged students about her own sexual orientation, the sexual orientation of artists, and their relationships with other gay artists."
However, Bailey's attorney, Giana Ortiz, says that her client simply "spoke with the students about her family which, for Stacy, included her wife." Ortiz also says that Bailey's suspension came after just one parental complaint.
BuzzFeed reports that both students and parents have expressed their support of Bailey — who was also named the school's teacher of the year for the past two years.
*The original version of this article incorrectly stated that Bailey was suspended without pay. She has been suspended with pay.