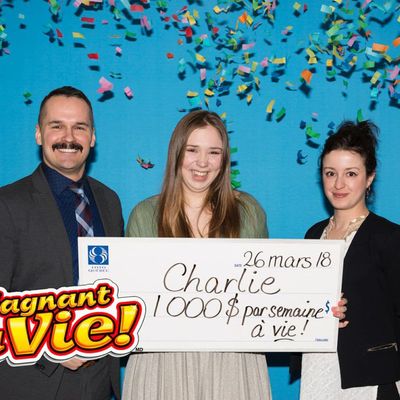 Charlie Lagarde with her prize.
Photo: Loto Quebec
Whatever you did for your 18th birthday, it probably wasn't as good as Charlie Lagarde's. Because the Canadian teen, who bought a $4 scratch-off ticket — her first lottery ticket ever — to celebrate her big day ended up winning for life.
She was offered the choice between $1,000 ($773.80 in U.S. dollars) per week for the remainder of her life or a one-time amount of $1,000,000 ($773,800), and decided to go with the former.
The chances of getting the Gagnant à vie (Winner for life) prize are about 1 in 6 million. That, coupled with the fact that this was her first game ever, makes this the most exciting lottery win since that woman who won $1 million in a game she played just to spite her husband.