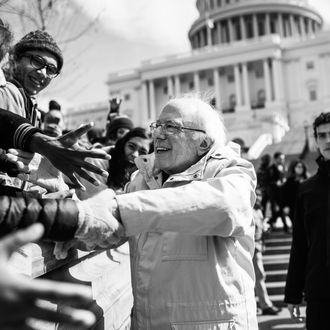 Bernie Sanders and protesters.
Photo: Tom Williams/CQ-Roll Call,Inc.
Students from all over the country took to the streets to protest gun violence for National School Walkout Day, which also marks the one-month anniversary of the Marjory Stoneman Douglas school shooting. Vermont senator and 2016 presidential candidate Bernie Sanders unexpectedly addressed the ones who took the protest to Capitol Hill — and the teens went wild for the 76-year-old politician's surprise appearance.
Video of him arriving to the scene shows teens swarming him, pulling out their phones for photos, and yelling his name.
"I am proud that you are here today," he told the crowd. "What you are doing is of national significance, you're leading the country in the right direction." (It should also be noted that he appears to have gotten a different parka than the one he usually wears everywhere, including the inauguration.)
The "Bernie Bernie Bernie" chants continued throughout this speech, while deafening screams and shouts of "we love you so much" continued afterward.