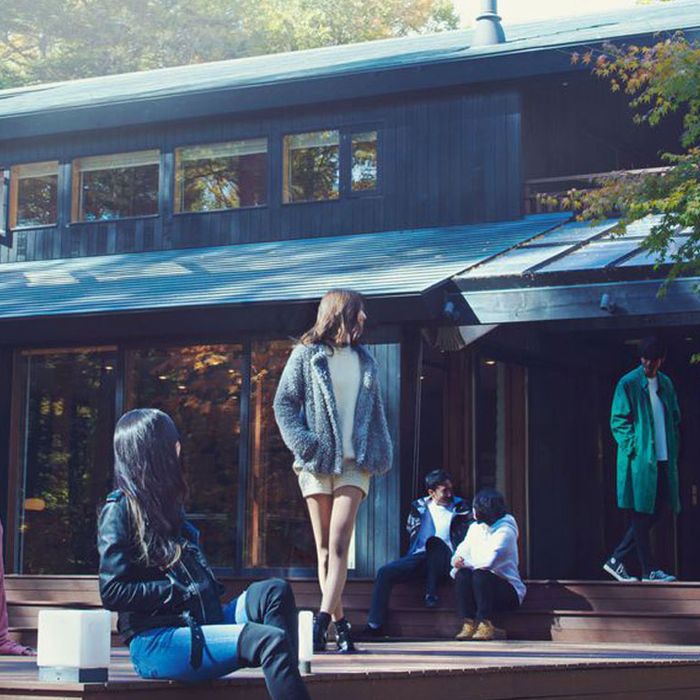 Photo: Fuji Television Network Inc./East Entertainment/Netflix
As I type, my keyboard is slick with tears of gratitude, as it's finally time for me to fulfill my life's work. Yes, you've seen me get to the bottom of every Kardashian continuity error, and yes, you've read my impassioned responses to both Fashion Nova and Stormi Webster. But, you've not seen the true contents of my heart, and for that I apologize. That changes today. Today I am happy to announce that I will finally do some good in this rotten world and recap Terrace House, better known as online television's hidden gem, or the greatest show of our time, or the reason I'm currently learning Japanese.
Terrace House came into my life last year when I wanted to get back to my roots and see what it was like to watch TV without also playing on my phone. My logic led me to anything with subtitles, and the youthful glow of the cast members of Netflix's newly posted Terrace House called my name. With one tap of my Apple TV remote app, I sat in front of my TV for hours bingeing Terrace House until I reached the end of the road and vowed to learn the Japanese language so I could watch the pre-Netflix episodes that didn't have English subtitles. I've preached the gospel of Terrace House to anyone who will listen, and my love of Japanese culture has grown so deeply, if I don't interact with the language or photos of Kyoto at least once a day, I fear I'll go into cardiac arrest. Terrace House is my religion, kink, sexual preference, way of life, and God willing it will one day be my legal name. And, honestly, I'm begging you not to even get me started on the Kardashians in Japan, because my therapist has already heard an earful and I simply can't afford another mental-health co-pay this month.
For those unlucky enough not to know about Terrace House, let me give you some background. Terrace House is a Japanese reality show featuring a rotating crop of six young people, three women and three men, who all live in a home (with a terrace) for however long they want. Like many other reality shows, they audition and are not paid to live there. But unlike many other reality TV shows, there are no confessionals, in-the-moment interviews, or technology bans. In fact, the house members watch their show as it airs, and sometimes what they see on TV informs how they behave in the house. The show also informs how new Terrace House members react when they arrive to the house. Which reminds me: The cast members can leave whenever they want, and when they do, a new member comes in to fill their spot. What prompts a person to leave? Well, that's sort of personal.
For many, Terrace House is a place for these youngsters to fulfill a career goal, like making hats and hosting an art show (shout-out to my forever fave Lauren), or finding a "love worth dying for," which was problematic Taishi's goal. The members are also free to go to school, work, or lounge around at home, all while being filmed by the Terrace House cameras on hand to capture their languid behavior and drama. The strictest stipulation is that each member is only allowed one (large) suitcase.
This show is so real, and people have described it as so enticingly boring that you cannot look away. I, however, wouldn't deign to call Terrace House boring. Instead, I'd describe it as a study in accurate human behavior. Fights in past seasons have revolved around housemates eating someone's special meat, housemates not being passionate enough about their career goals, and mixed "sexual" signals, like holding someone's hand with no intention of wanting to be their significant other. It's literally the Real World, but real-er and more literary, since you've got to read subtitles. To top it all off, the show features Japanese celebrities as commentators throughout the show. This group of celebs react to everything that happens between the members, and most of them have been commentating on the show since it began more than five years ago.
The first proper season of Terrace House, Terrace House: Boys x Girls Next Door (located in the Shonan area of Japan), premiered in October 2012 and ran until September 2014! There was also a MOVIE that aired as a conclusion to the two years of rotating house members. What followed were two other seasons, which are on Netflix: Terrace House: Boys and Girls in the City, based in Tokyo, and Terrace House: Aloha State, based in Hawaii! Both seasons were remarkable, but even though I got started with Aloha State, I must admit that some of the show's luster was soured by the more Americanized drama. Unlike seasons past, and Arman, this season featured a larger crop of housemates who were Japanese, or fluent in Japanese, but grew up in America. Still better than anything my eyes have been blessed to see, but not as great as the drama born and bred in Japan. Such as Boys and Girls in the City's Rikopin or Natsumi. Two ladies I'm sure we'll get to later.
To clarify: Terrace House: Opening New Doors is the third season of Terrace House available on Netflix, but the fourth season of the entire show. The first season only aired in Japan, before Netflix and Terrace House's production company joined forces to allow us the opportunity to experience Japan's hidden gem. That first season is not available online with subtitles (well, not without an amazing connection that is).
I think that's enough background for those of you new to this blessing, so let's get straight into it: We're going to begin with the first of the eight available episodes of Opening New Doors (the first half of this season is up on Netflix now; the second half comes to Netflix in April). This season began filming last fall and is currently in production, which means some of the housemates are still in this house.
This season, our Terrace House occupants will settle into the snowy Japanese town of Karuizawa. This is the first season where the housemates aren't living near the ocean, so awkward bathing-suit time will now be swapped with comfy snow-clothes time. The Karuizawa home has a rustic cabin feel to it, but maintains the ultramodern aesthetic Terrace House is known for. There's no pool, but there's ample outdoor space with a gazebo and massive windows. The leaves are already changing and a couple of the housemates play professional winter sports. It's a new TH era, which makes the title Terrace House: Opening New Doors, seem extra fitting. New Doors, New Eras, etc.
The season can't properly kick off without an introduction from our esteemed panel of celebrities. We've got our old faithfuls, Azusa Babazono, Yoshimi Tokui, You (yes, You is so iconic, her FULL NAME IS SIMPLY "YOU"; Beyoncé and Madonna could never), Reina Triendl, and Ryota Yamasato, along with newcomer and 22-year-old actor Shono Hayama. After their usual good evenings and description of the show by my personal queen, You, our celebs are as anxious as I am to get RIGHT. TO. THE. ACTION. Much like You, I "want this experience to go on forever." Let our forever start now, babies.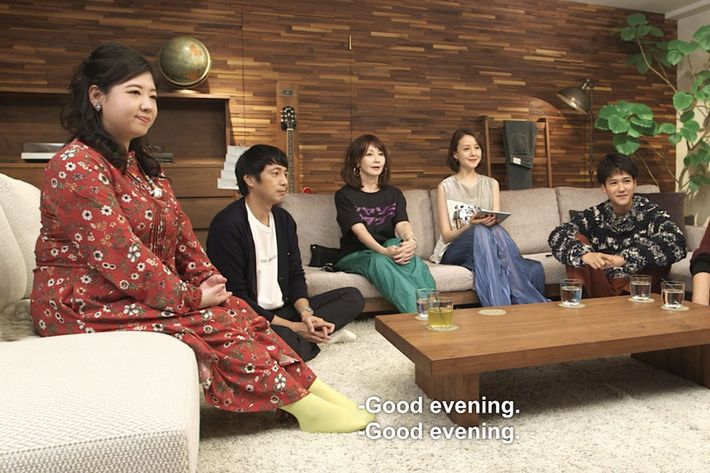 Like every first episode, the arrivals are the most awkward. The first housemate to arrive is Ami, a 20-year-old university student/model from just an hour away in Tokyo. As she walks up to the gorgeous home covered by fall foliage, Ami's face is concealed, as the new member's faces always are, until she reaches the gorgeously modern kitchen. Like many Terrace House women before her, Ami is very cute. From what I've learned, there's always at least one supercute girl who arrives early on to cause some sort of confusion and drama in the house. I mean, it's still TV, let's be real.
Soon after Ami's arrival, 19-year-old Yuudai, an aspiring chef, joins her. Yuudai's journey to Terrace House is pretty unique: His grandma applied to the show for him and then the next thing he knew, he was on it. Next up is Mizuki, 26, who's a freelance writer and interpreter usually based in Korea. Rounding out the group is Takayuki (Taka), 31, a professional snowboarder, Tsubasa, 24, an ice-hockey player, and Shion, 22, a Japanese-American model. With these three, Taka immediately takes an elder role (though, he's no academic like Hansan — RIP Terrace House: Boys and Girls in the City), while Tsubasa is touted as the most "natural"-looking girl on the show by one of the celebrities, Yoshimi.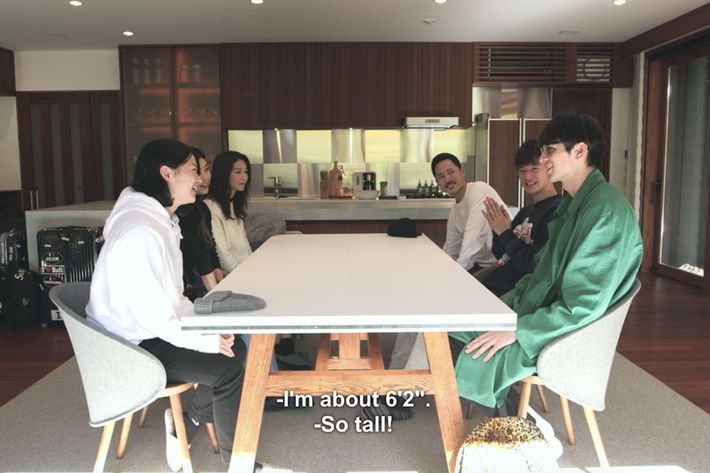 Shion is honest about his reasons for wanting to join the show: to get his modeling career off the ground and do runway shows in Paris. He's hoping people "swoon" over him, and while the guys take a tour of the house and get settled in their shared room, he makes sure to point out the fact that they'll be able to watch themselves on TV as the show airs. I've got my eye on Shion. Yes, he looks to be about as tall as the Empire State Building and is as fine as baby hair, but his motives are suspect, and he may not open up too much during his time on the show.
When everyone else explains why they've decided to join Terrace House, Tsubasa admits that she'd love to gain more confidence and spread the gospel of ice hockey to the world. Plus, she's a local, so living in this free house in her hometown isn't that great of a sacrifice. Everyone else just wants to grow in their fields and most likely find love. What's interesting: Tsubasa is the only housemate who has work that takes her out of the home on a daily basis — so unlike years past, this group of people will be at home together a lot.
After welcoming every new member with bows and an endless amount of nice to meet you's (but sadly no I look forward to living with you's), the girls and guys separate to explore their rooms. In each home, the women sleep in one room, the men in another. There's also a special room that couples can sleep in once they become intimate. When both the men and women are settled in their rooms, they dissect which member of the opposite sex they're into. All of the men have crushes on Ami, but Shion also has eyes for Mizuki. Sadly, Tsubasa gets no love. In the girls' room, they're too busy freaking out over their huge tub with a TV on the wall to even talk about which guys they find attractive.
Even on her first night at Terrace House, Tsubasa heads to work at her local gym, while everyone else goes on their first group grocery trip. Nineteen-year-old chef Yuudai is hoping to whip up an Italian dish for his first dinner with the group, but the House Elder, Taka, convinces the group that they should have hot pots. Which just happen to be the one meal he's most picky about, so Yuudai's attempt to impress his new roomies is completely thwarted. Despite his cooking plans being thwarted, Yuudai spends time at the grocery store sniffing onions and trying to make himself useful. Still, this meal is obviously Taka's and Yuudai will just have to find some other time to cook his new friends spaghetti.
After grocery shopping, the roommates cook up a delicious hot pot as a group, and even set a place for Tsubasa, who won't be home until after 9 p.m. While they eat, they all talk about what type of person they're into. Shion and Taka both love girls who are agreeable, open to trying new things, and love to laugh and go outside. Neither is interested in a woman set in her ways.
Ami audibly scoffs and tells Taka that he'd hate dating her because she's never afraid to tell a guy she's not doing whatever new activity he suggests. However, she does say that she's interested in dating men who keep it real with her and aren't afraid to discipline her, in a way. Ami continues to drive home her point saying that she can be stubborn, so she wants someone who is a bit more controlling and domineering. Ah, to be 20. Or even 26 (which I am, LMAO, but if anyone asks, I'm 22), because Mizuki totally understands where Ami is coming from, and furthers her point saying she'd love someone not to show any interest in her because showing interest is a turnoff. But get this, these aren't even the craziest turn-ons this group has.
Poor little Yuudai. He has listened to this nonsense, but apparently has some more BS for us up his sleeve because he admits to wanting a "mothering" type. He says he's often called a "puppy," and he'd like a mama pup to take care of him. Tsubasa comes home just in time to not hear Yuudai's creepy kink, but we do find out what type of guy she's into: one who likes sports. Groundbreaking.
Before everyone turns in for the night, the girls recap their night and finally discuss which guy they're into. Mizuki is fond of Shion, and thinks they're on a similar wavelength — and so does Ami, even though she told him she was the opposite of what he wanted in a girl. Tsubasa hasn't taken a liking to any of the men, but I'm sure that will change.
In the guys' room, they're done talking about women and move on to the TWO PANDA-BEAR STUFFED ANIMALS mother-loving Yuudai brought with him! He says he needs them to support his neck and emotions throughout the night because he became cripplingly lonely after his last breakup. These "substitute girlfriends" mean there's "cuteness everywhere [he] turns" in bed! He's named them Sanchan and Yuchan. I'd just love to see former Terrace House member Rikopin's bunny slippers compete with these two pals. This is the Terrace House content we deserve.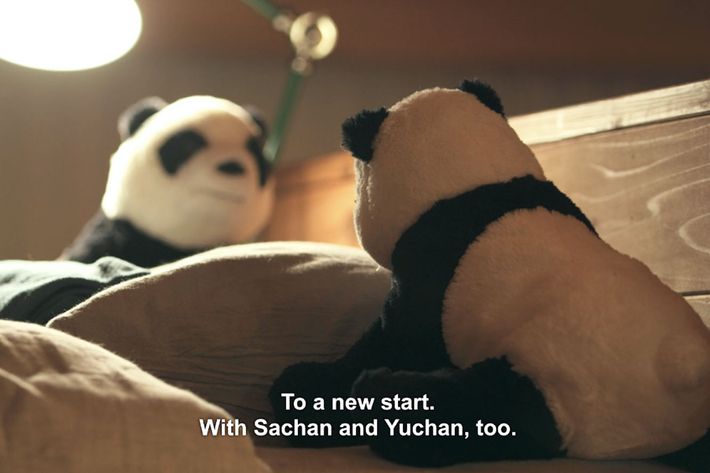 My Terrace House queens, I'll be back here each week recapping Netflix's latest season of Terrace House, so keep your eyes locked on this space. And if you have any Terrace House intel, please send it directly to my DMs because information about this show is the only thing that keeps me alive.