Unlike Holly Taylor's TV mom — the jugular-stabbing, enemy-dismembering Elizabeth Jennings, played by Keri Russell on The Americans — her real mom is not an undercover Russian spy. But, if you mess with Holly, she will still kill you.
"My parents have definitely threatened to kill my boyfriend," Taylor tells me with a laugh. The petite 20-year-old actress is wearing a campus-casual uniform of a cropped beige hoodie, ripped jeans, and a miniature turquoise backpack as she navigates her Jeep SUV through the snow-covered streets of suburban New Jersey. I've spent the morning hanging out with her and her mom at their family home, and now we're about to grab a bite to eat before Taylor heads over to nearby Kean University, where she's studying graphic design. "My mom told him that she had a gun — which she doesn't, she has never had a gun," Taylor clarifies, diligently checking her blindspot. "And my dad said that he would run him over with his pickup truck and then come back with his motorcycle and run him over with that."
On The Americans, the Cold War–set FX drama whose sixth and final season premiered last night, Holly Taylor plays Paige Jennings, a typical suburban American teen who discovered, midway through season three, that her parents were KGB agents. Since then, we have watched Paige go through the stages of learning-your-parents-are-spies: denial, anger, embracing religion, dating an FBI agent's son, reading Karl Marx, rejecting religion, combat training, and, ultimately, acceptance. When season six opens, three years have passed, her father Phillip (played by Keri Russell's real partner Matthew Rhys) has given into his long-running doubts and retired from the spy game, and Paige has taken his place as her mother's comrade in espionage.
Taylor has played Paige since she was 13 years old, and in the years she's done so, she's often been a target of viewer hatred. For her, this new turn to badassery is a relief. It's what she's long been wanting for the character: "For her to redeem herself," she tells me excitedly. "Even though she didn't have a reason to redeem herself, because everything she did I think was fully justified and expected," she clarifies. "I just hope that people start to have some more compassion for her and see how much she's grown and how much she is like Elizabeth."
And perhaps a little bit like Taylor's own tough mom as well. When Taylor first entered the world of theater, her mother — Margaret, an immigrant who fled from a turbulent and abusive family life in Ireland — says she didn't even know what Broadway was. But she knew she would do whatever it took to keep her daughter out of harm's way. "My thing [I would say] to everyone is: Death row means nothing to me," Margaret would tell me later. "But you're going to be dead. I've always told everyone she's not the kid to mess with." Taylor, listening in from the next room, looks slightly stricken, as if she's heard this tough-talk routine plenty of times before.
The Americans may be a spy drama, but it's also fundamentally about family, and one of the most interesting aspects of the show has been watching Phillip and Elizabeth, who grew up amid violence and poverty in the USSR, come to terms with the strange all-American children they are raising — these unfamiliar creatures living a life of first-world privilege they never got to experience. And while Taylor's own life is certainly very different than Paige's, she's well acquainted with the bonds and tension children share with parents who grew up in a very different world than theirs. "My mom had a really, really bad upbringing. So, for her to be a better person and make sure our lives were better than hers was, were her main goals," she says.
Now, at age 20, with the show that has defined her teenage years coming to an end, Taylor is trying to figure out exactly what form that life should take. "I think that I've always been a perfectionist and expected a lot from myself, more than I probably should," she tells me, her big brown eyes flickering with concern. "Even right now I feel like I'm not doing enough and I constantly need to be doing more and improving myself. If I didn't try my best at everything I do, I would not be able to sleep at night."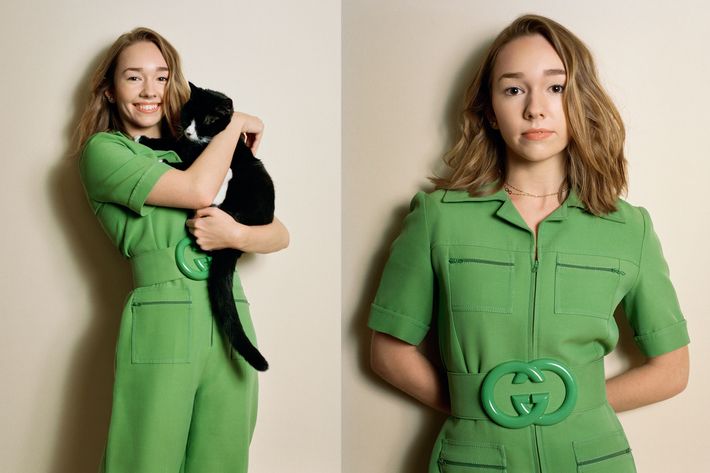 When I arrive at the Taylors' home on the snowy March morning, I am greeted by a menagerie of disabled animals the family has rescued: two cats with cerebellar hypoplasia, a neurological condition that makes them wobble as they walk, and a skittish senior cat named Gracie, who hates guests. "If she were a family member she'd be like the single crazy old aunt who's addicted to Xanax," explains Taylor, who runs an Instagram account called @taylorgangcats in her spare time. Margaret bustles around, handing out coffee and doughnuts to the team. "She's a hormonal, miserable woman," Margaret adds, looking affectionately at the aged feline.
Upstairs, Taylor's room is filled with artsy-girl trappings like hand-painted acrylic landscapes and guitars, as well as a flower-shaped chalkboard with a to-do list that reads "yoga, guitar, charity." Otherwise, the house is minimally furnished, with some family photos propped on the mantel of an artificial fireplace, a sectional covered with The Americans and FX pillows pilfered from various network events, and a turntable playing Elton John's Goodbye Yellow Brick Road LP (which featured prominently in the Americans season-five finale). Margaret explains that Holly put the down payment on the family house with her Americans earnings; the family just moved in last year. "She's been able to save some money and she has some backup right now. She's in a decent situation. She had to pay for her own school. Me and my husband can't afford to do that," she says.
"My parents have sacrificed so much for me," Taylor tells me later. "I feel like they deserve way more than what I've been able to give them. As immigrants in this country they've struggled so much, and to be able to help them feels really good."
Taylor was born in Nova Scotia, Canada, and moved to New Jersey when she was a toddler. Her father is also an immigrant, from Scotland, and now works in textiles; her brother, seven years older than she is, is a veteran who spent much of Taylor's upbringing serving two tours of duty in Afghanistan. Becoming a stage mother was the last thing Margaret expected for herself, but her daughter was always creative and danced competitively from a young age, getting her big break as a "ballet girl" in Broadway's Billy Elliot at age 11.
When she was 13, Taylor got cast on a new FX show called The Americans, created by Joel Fields and ex–CIA officer Joseph Weisberg. Those early days were hardly the picture of showbiz glamor: Margaret would chauffeur her daughter back and forth from New Jersey to the set in Brooklyn, and she would cram in schoolwork on set and study late into the night to maintain her honor-student grades. They were living in L.A. when Taylor was signed to shoot the pilot, and Margaret describes driving 48 hours through the night to get them to the New York set on time, with Gracie the cat in the car with them. They slept in the car, equipped with knives in case of intruders.
At the beginning of The Americans, Paige and her little-seen younger brother Henry (Keidrich Sellati) were largely props for their parents' wholesome all-American family act. But in casting a child actor, you never know when you'll strike gold, and much as with Kiernan Shipka on Mad Men, Weisberg and Fields quickly learned Taylor could handle anything they threw at her. "We always knew that a fundamental drama of the show revolved around that tension between the parents and the kids, and we also knew that Paige would be the one they told, so that was central to everything," explains Weisberg. "But I think what we didn't understand at the beginning was the amount of screen time that story would take up, and it is absolutely because Holly was so terrific and so convincing and so talented."
Over time, Paige's role in the series expanded, and the show became less a shoot-'em-up spy drama than a layered exploration of marriage and family and country, with Phillip and Elizabeth's parental Cold War over how to raise their daughter unfolding parallel to the geopolitical conflict playing out at large. As Jen Chaney wrote on Vulture, "Paige is the key to understanding what lies ahead on The Americans, because her choices dictate her whole family's future."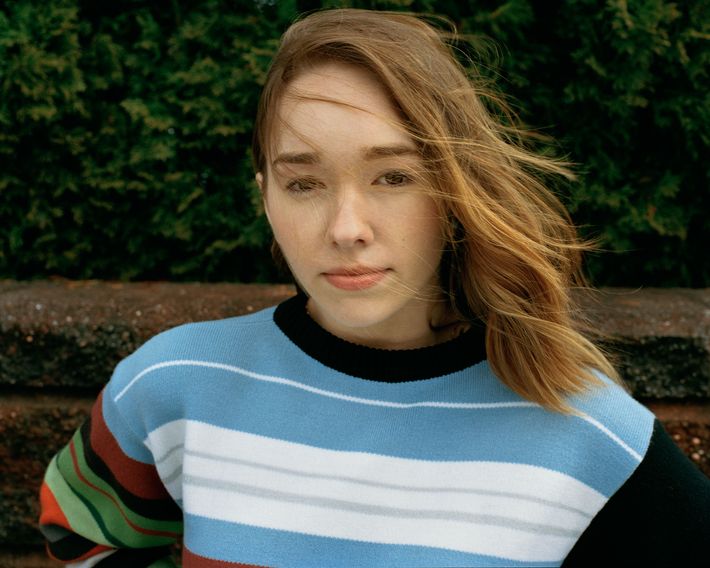 Yet talking to Taylor, it's clear that playing a controversial character in one of TV's darkest dramas — and being a young person on a very grown-up show — hasn't always been the easiest way to spend her formative years. With her constant prying and questioning, Paige has long been pegged as one of the "annoying" TV daughters people love to hate, from Homeland's Dayna Brody to The Good Wife's Grace Florrick. "I used to feel frustrated when she was always asking questions. I could see the [mean] tweets as soon as I read the scripts," she says. At times, Taylor has suffered the sort of social-media abuse that used to be levied at Breaking Bad's put-upon wife Skyler White, and she often felt that viewers were unduly hard on the earnest and empathetic Paige. "There's really a lack of compassion for her," Taylor says. "If you were her, you would act the same way." She hopes that with her turn to spycraft this season, people finally cut Paige (and her) some slack. "I was so excited, because that's what I've wanted since the beginning."
In just ten episodes, with the end of the Cold War drawing ever nearer, we'll finally learn what becomes of the Jennings family. "I'm very happy with how it ends, but my character's not happy," Taylor tells me. "It's a very sad ending."
When season six opens, viewers are met with a whole new Paige Jennings: no longer a questioning high-schooler but a self-confident college student, her long ballerina-Barbie locks trimmed into mature shoulder-length waves, starchy turtlenecks replaced with menswear-inspired '80s blazers. "My mom always says, I can't believe how much you look like Keri Russell, I think she is so beautiful and I'm like, What are you talking about? I don't look like her!" Taylor says. "But I could see it in some aspects — I feel like at some points I've picked up some of her mannerisms when I'm acting, because I started out on the show so young."
Much as Paige has grown newly assertive this season, looking and acting ever more like the fearless Elizabeth, so too has Taylor, overcoming some of the intense shyness that dogged her earlier teenage years.
Some of that earlier reticence may have to do with the way she was raised. Ever since Taylor was young, her mother admits that she has filled her daughter's head with horror stories about the dangers of being a woman in the world. "Because of my background, I don't trust nobody," says Margaret. "I wasn't ever going to let anything happen to her. To me, she's not a dollar sign." While she acknowledges she probably scared her daughter, she hopes these warnings ultimately keep her safe. "I told her you'll never need a job that much."
Unlike her ultrapatriotic older brother, Taylor says she has never felt wholly American. "I feel like it made me really different from a lot of people I went to school with," she says of her family. "My parents were more strict with things. I could never understand why, and it was because my parents didn't grow up the way the parents did here … Even in high school, I wasn't allowed to go to parties and stuff, which made me so upset, because I never did anything illegal and I was such a good kid," she adds. Still, with time, "They have loosened up a bit."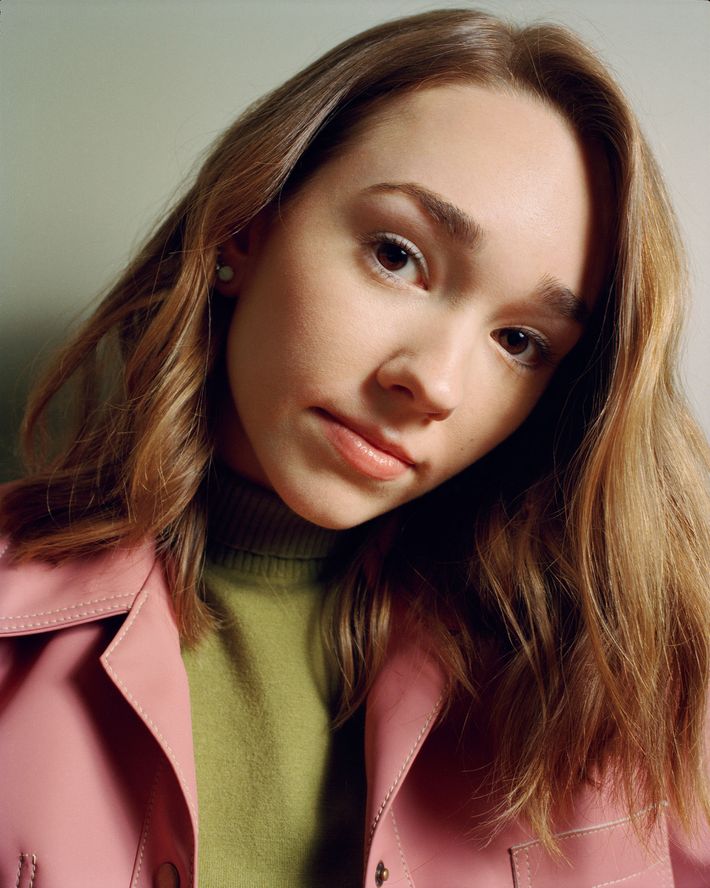 As The Americans ends, Taylor is excited to have more free time (even if she's a bit worried about not being busy enough). When she's not working or studying, she likes to dance and exercise and paint and play guitar and do community service and volunteer at the local animal shelter. For fun, she and her boyfriend hang out at the Cheesecake Factory and watch The Office together. ("He'll watch [The Americans] for me, but he doesn't really follow it that much," she explains. "He just watches The Office, which is all the both of us watch.") Taylor says she never had a teenage rebellious phase, and her parents clearly put the fear of god into her. "I. am. not. of. age!" she exclaims exaggeratedly when I ask whether she drinks, and she says she still doesn't have sleepovers with her boyfriend, although they have been together for two years. "If you wake up in the morning and you see each other's parents, it's like …" she trails off. "There's so many awkward aspects to it. I would love to have sleepovers and be able to watch The Office all night and eat ice cream, but in the morning it's not worth it."
Because The Americans has always been a critical and awards darling more than a huge commercial success, the show's niche viewership meant that Taylor grew up without a stereotypical child-star experience. "If I was on Stranger Things, I would get that, or, like, something cool," she says, adding that The Americans isn't cool to people her age. "There is a kid who was in [one of Real Housewives shows] that went to my high school, and he was a way bigger deal. No one knew who I was."
Despite her obvious talent and dogged work ethic, Taylor is ambivalent about continuing an acting career: At times, it sounds like she's almost made up her mind to quit the industry. "In this career, it's so focused on your physical image," she explains. "I don't want to be in a job where I'm constantly getting graded on what I have to look like, what I have to act like." There's also the matter of finding the right role to follow it with. "It's so hard to find a role as strong as Paige," she adds. "Right now everyone's really championing strong independent female characters, yet every audition I get, the breakdown is like: Sally, 16, beautiful girl, but also super intelligent, and witty, and super down to Earth. Everyone at school loves her and her beautifulness," she says exasperatedly. "What does her being beautiful tell me about how to play this role for you?"
Amid the conversations about sex and power sparked by #MeToo, negotiating boundaries as a young actress can be an ongoing challenge. Taylor recalls being very resistant to Paige's kissing scenes with Matthew Beeman (her boyfriend on the show for a few seasons, and the son of the family's FBI agent neighbor Stan Beeman), and alludes to the incredulous responses she sometimes received: "She doesn't want to be making out with a boy, putting her hand down his pants, and making faces? She's not comfortable with that? She doesn't want to be naked onscreen with a bunch of 60-year-old men tweeting at her that she looks cute? She's not okay with that? I was like, What is so bizarre about this? Why am I not allowed to be comfortable?" she says, her pale skin flushing. "People thought that it was my mom [who] didn't want that, but it's my own choice," she adds. (She is quick to clarify that the showrunners were always very accommodating and never pushed her to do anything she was uncomfortable with.)
"Holly was able to come to us and be direct and be clear and we've learned to listen carefully to her and be responsive to that; we give a lot of credit to her for that. It's an impressive thing," says Weisberg.
When Taylor first toyed with the idea of quitting acting, she said she was terrified to tell her parents, because they had sacrificed so much for her — but she was relieved when they ultimately encouraged her to do whatever made her happy. Right now, she's still making up her mind, but she's considering supplementing her graphic-design degree with a marketing double major to make her more employable. "I definitely want to have a solid backup plan."
Taylor says her ultimate long-term goal is not to become a huge movie star or strike CW or Disney gold, but to start a charity to help rescue animals. Then she would hire veterans to work there — something she was inspired to do after seeing her brother's struggles on returning from the military. "The veterans would be helping the animals, and the animals will be helping them," she explains. "My brother went to war twice, so that we could all be cozy here and have our freedom, and he didn't even have health insurance when he came home. Meanwhile, I'm dressing up as a character and putting on a stupid costume, and I get all these perks. It is so backwards to me," she says. "I never aimed to be a famous actress. I just want to be successful, and to me that's not equivalent to fame. That's like you're known as a hard worker, you're a respectable person, you're nice to everyone and you get the work done well, and you're being hired and making money, and making a living. That's what I would like."
Lead Image Credits: Bottega Veneta jacket, $2,600 at 800-845-6790; Prada Poplin shirt, $640 and sweater, $690 at Prada.com.
Production Credits:
Photos by Justin Leveritt
Styled by Lindsay Peoples Wagner
Produced by Biel Parklee
Hair and makeup by Megan Kelly at Atelier Management