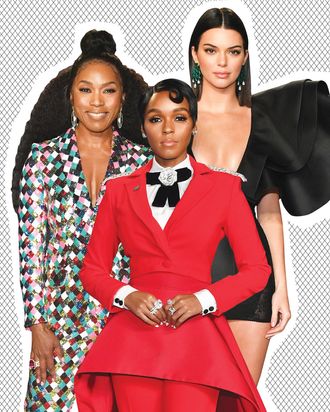 Welcome to This Party Had Everything, our recap of the best and wildest party looks from last night.
After the Oscars ceremony ended, celebrities took off their constrictive Academy Awards outfits and put on their constrictive Vanity Fair After-Party outfits. Doesn't being a celebrity sound like fun! While some stayed in the same look (ahem), others attempted a more experimental style.
The really great thing about the Vanity Fair party is that in addition to all the Oscars guests, all the other types of celebrities — from models to Olympians to reality stars — also attend. Let's see how they stacked up to the best Academy Awards red carpet we've seen in years. I love parties!!
Best Sharon Stone Cosplay: Allison Janney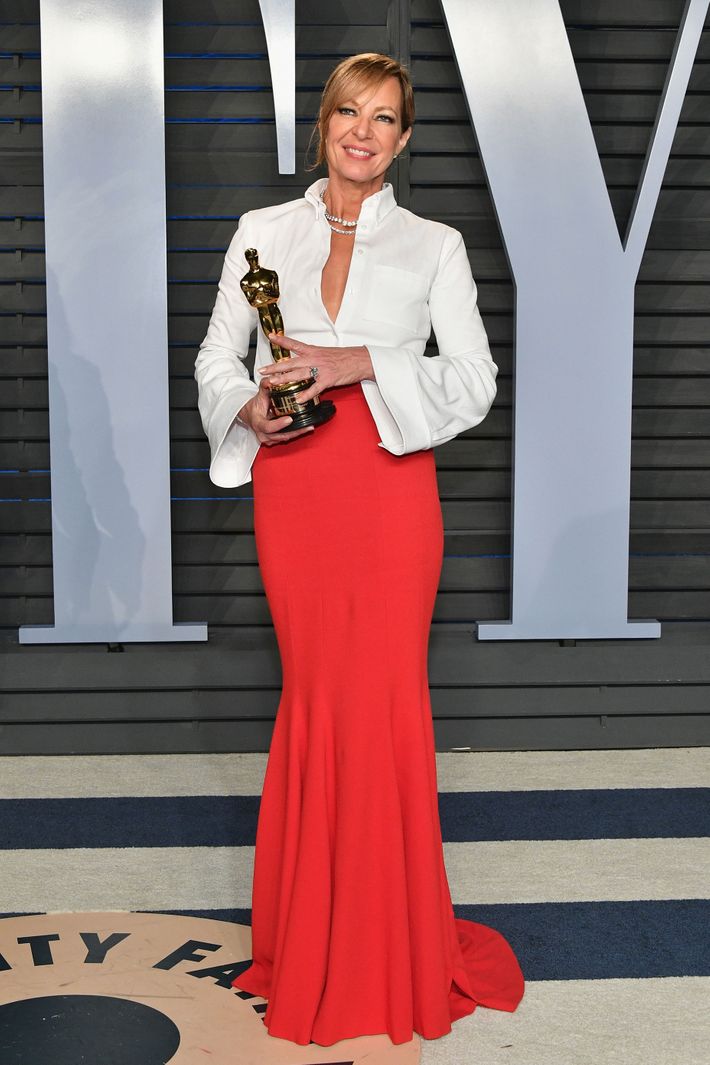 Ahh, the white shirt tucked into a black-tie skirt. A classic for the likes of Carolina Herrera, Sharon Stone, and … well, I guess just those two. And now Allison Janney! It looks good with her Oscar for Best Supporting Actress, but would look better with a bird on her shoulder. Caw.
Best Matador Suit: Janelle Monáe in Christian Siriano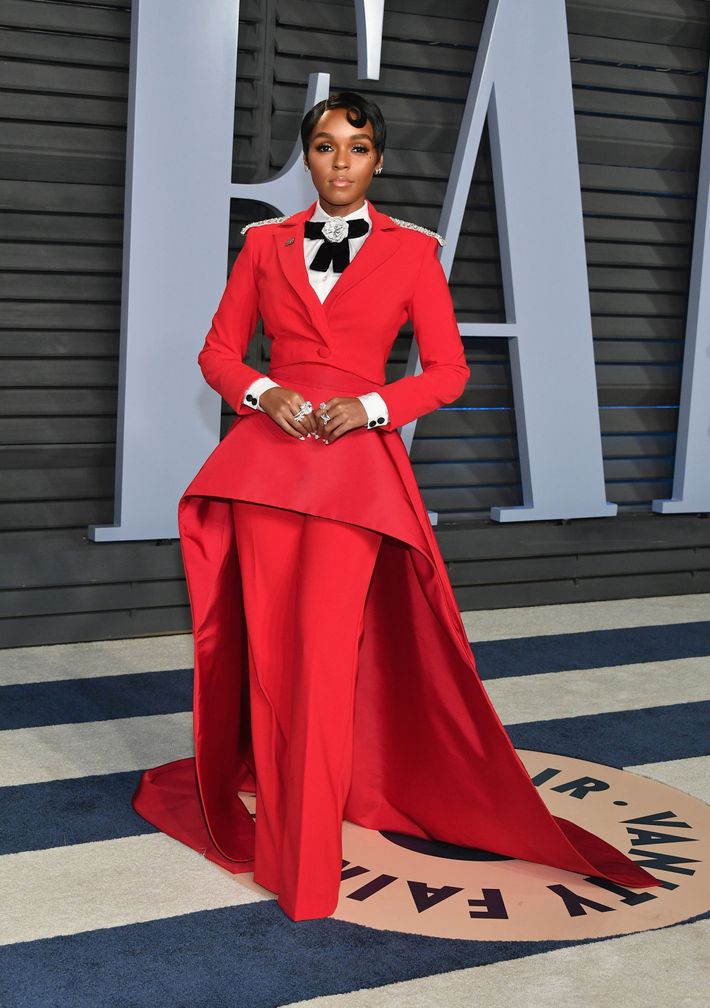 Janelle Monáe dressed like a bullfighter in a jacket with a train and wide-legged suit pants. She even had tassels on her shoulder and a rose cinching her collar. Olé!
Best Nude-on-Nude: Alessandra Ambrosio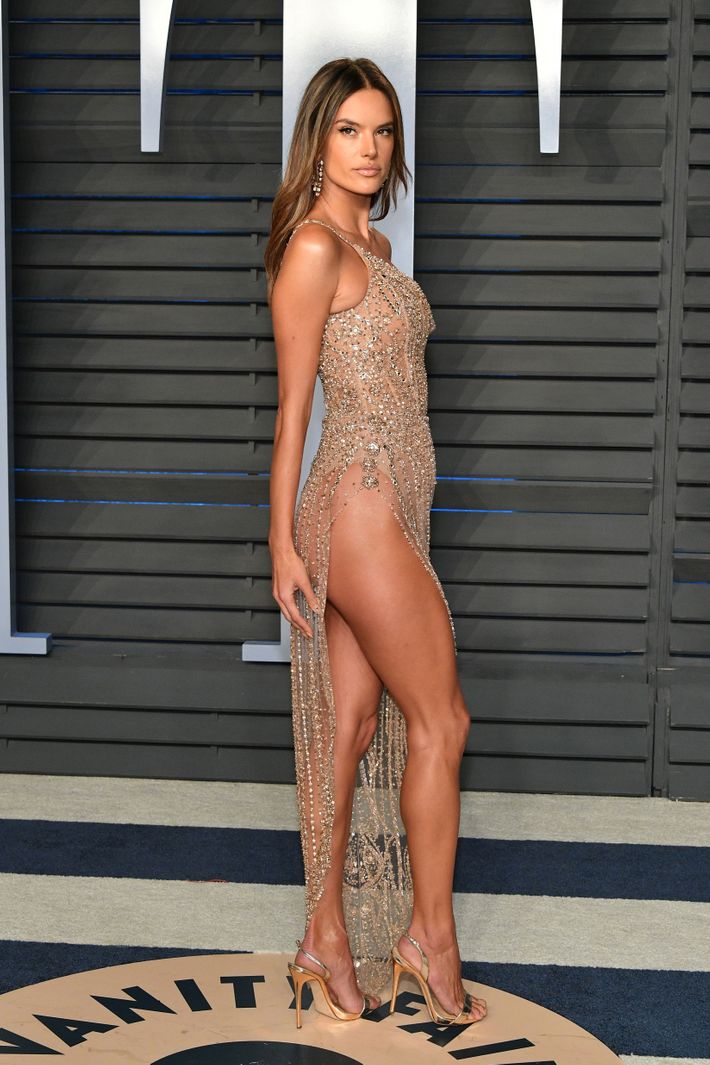 This look channels both Bella Hadid in Cannes and Beyoncé at the Met Gala. The sheer, beige sequin look was paired with a nude lip and neutral metallic heels. Not a pop of color to be found here.
Best Neon Yellow: Tiffany Haddish in Brandon Maxwell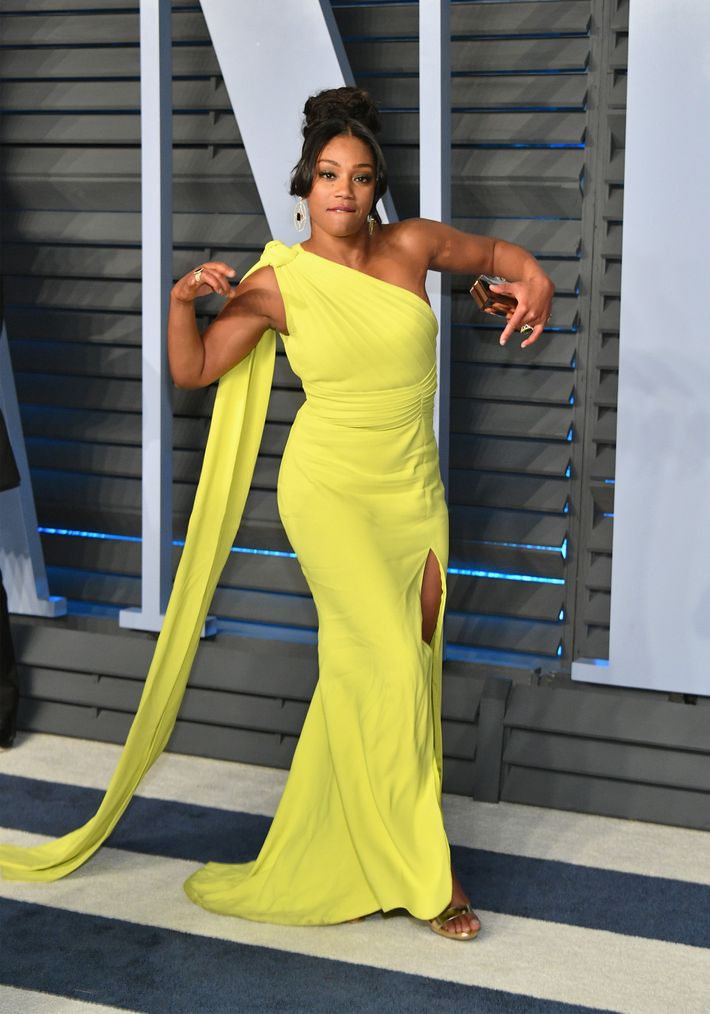 Not many people look good in neon yellow, but Tiffany Haddish is one of them! Throw in a leg slit and an over-the-shoulder train and I'm in love.
Most: Kendall Jenner in Redemption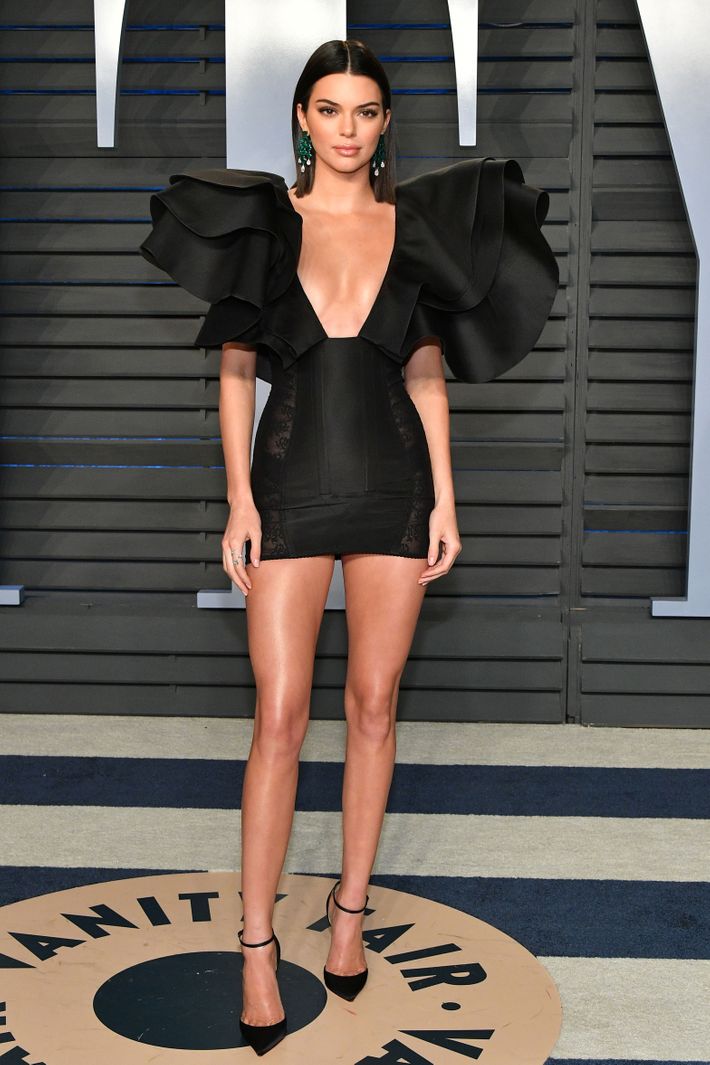 Kongrats to Kendall on finding the only non-boring black dress to wear to the Vanity Fair Oscar party. That hemline, that neckline, those sleeves. It's like St Vincent's Saint Laurent dress, only with twice the giant sleeves!! The only appropriate superlative is just "most."
Best Bolero: Tracee Ellis Ross in Balmain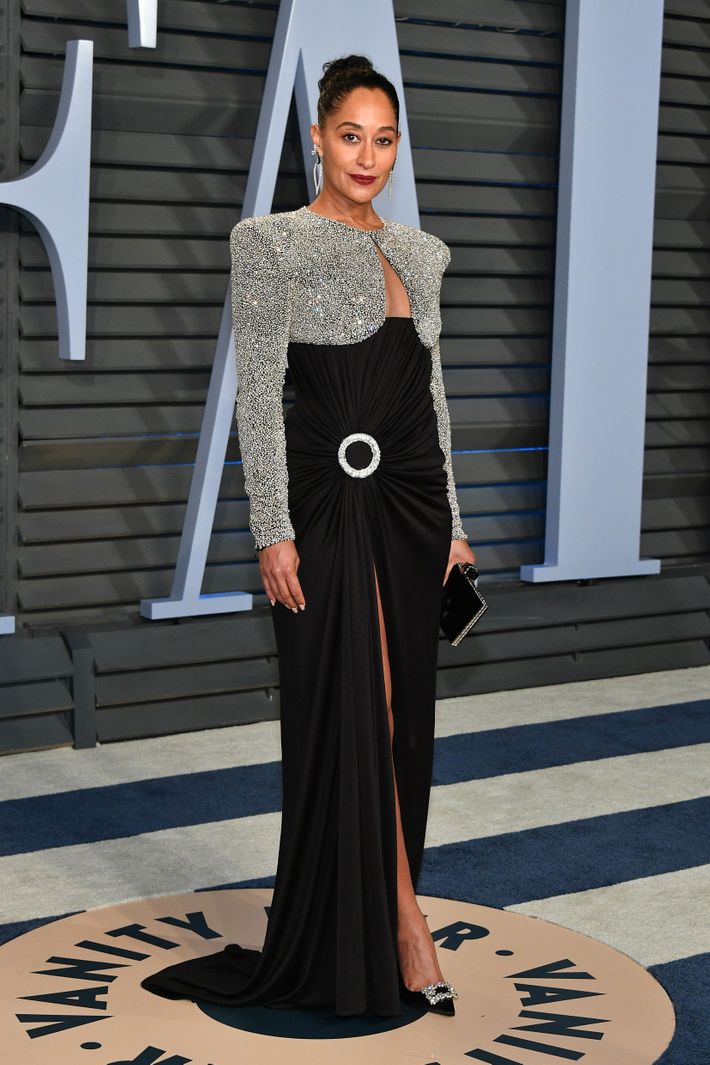 This bejeweled bolero looks great on Ross, who wore it over a draped black dress. She could help Janelle Monáe fight that bull!
Best Train: Ciara in Alexandre Vauthier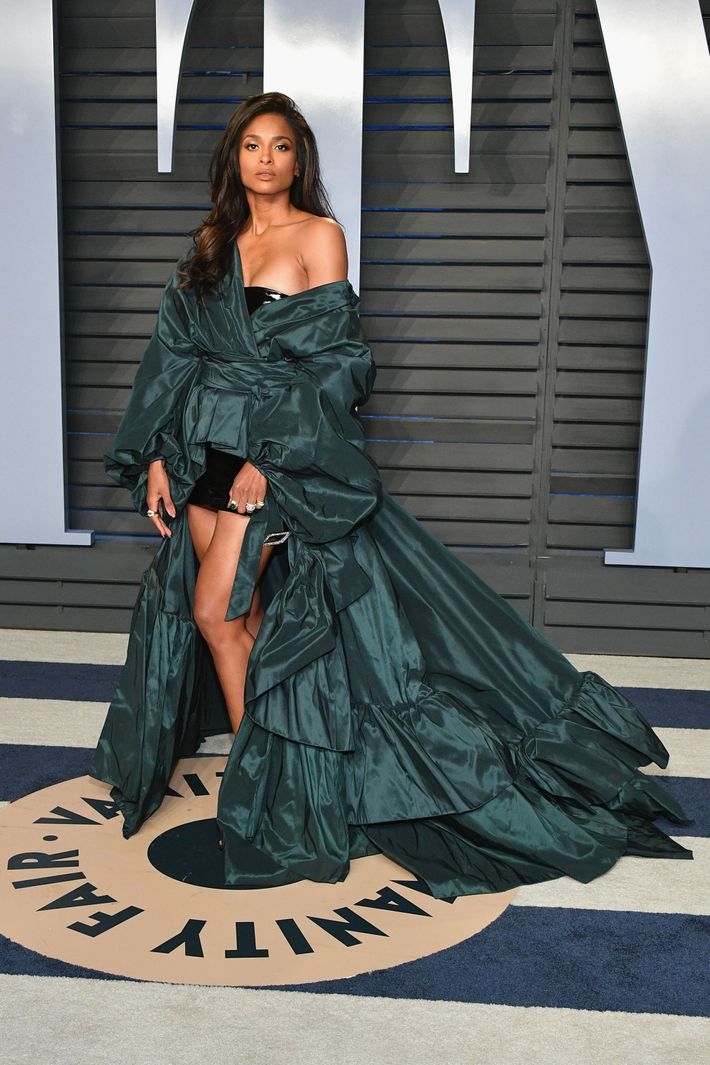 The miles and miles of taffeta look comfy. Like a giant, couture sleeping bag. Wait, those exist now.
Best Boa: Emma Roberts in Prada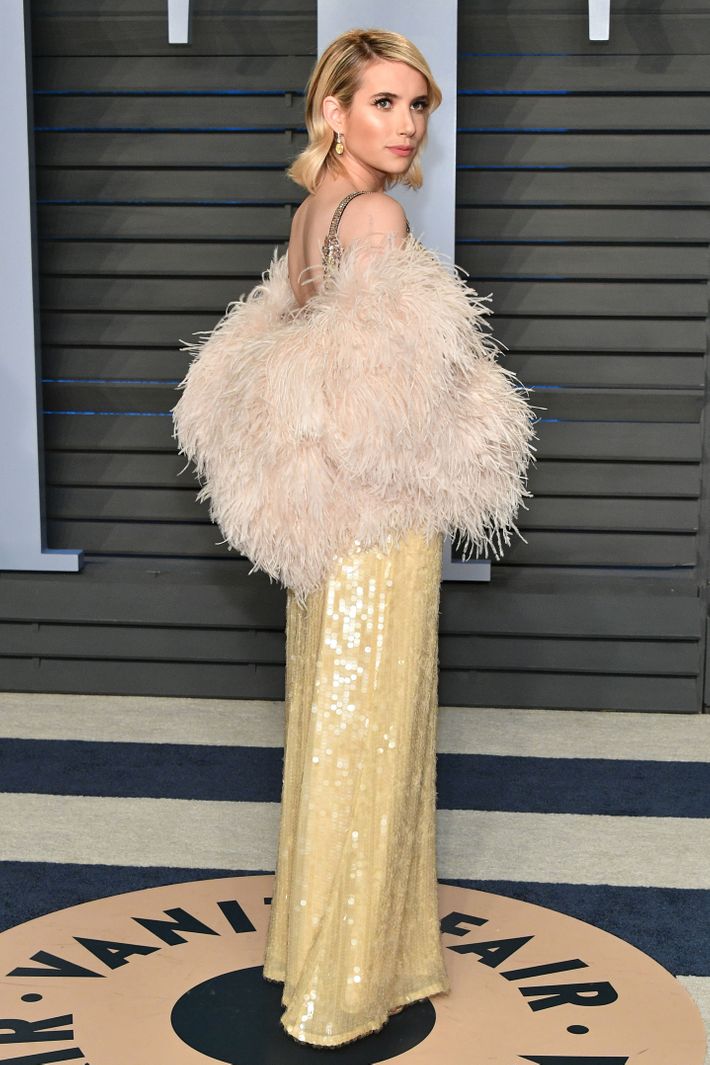 She's giving us Old Hollywood vibes in butter yellow. But even better than the light shimmer of her dress (that matches her hair) is the fluffy pale boa. She looks ready to entertain her fellow guests with a monologue from "Sunset Boulevard."
Best Turt: Alicia Silverstone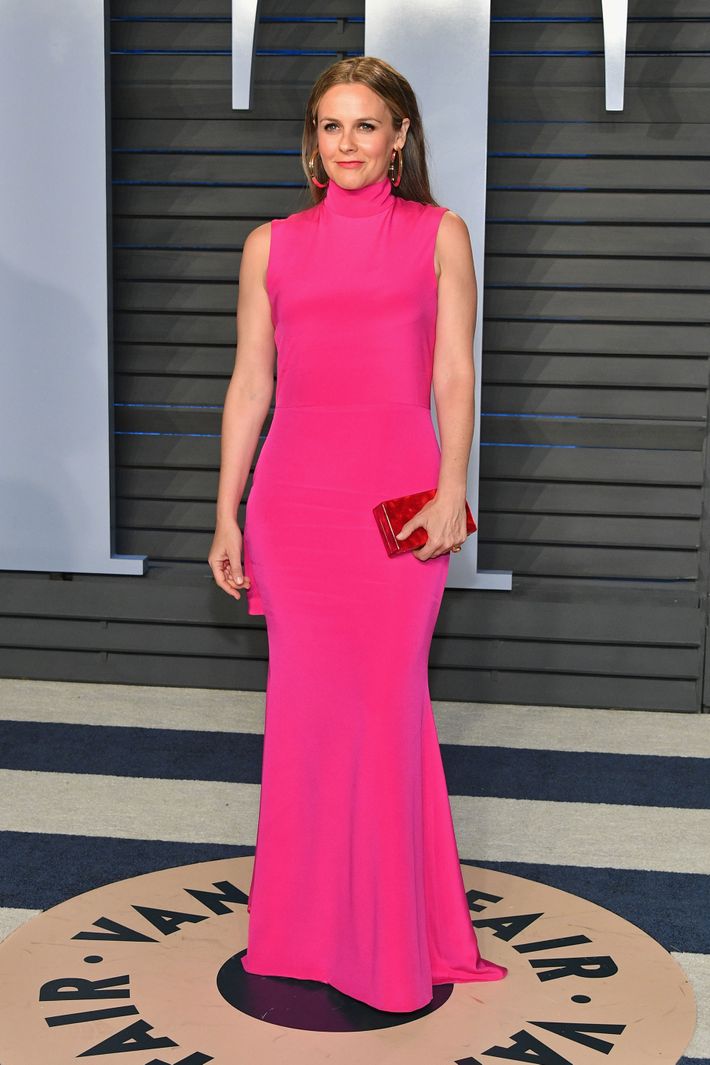 If Cher Horowitz existed in the era of sexy turts, she definitely would have worn this dress. It looks like the love child of Maya Rudolph and Viola Davis's looks at the Oscars red carpet.
Best Gucci: Jared Leto in Gucci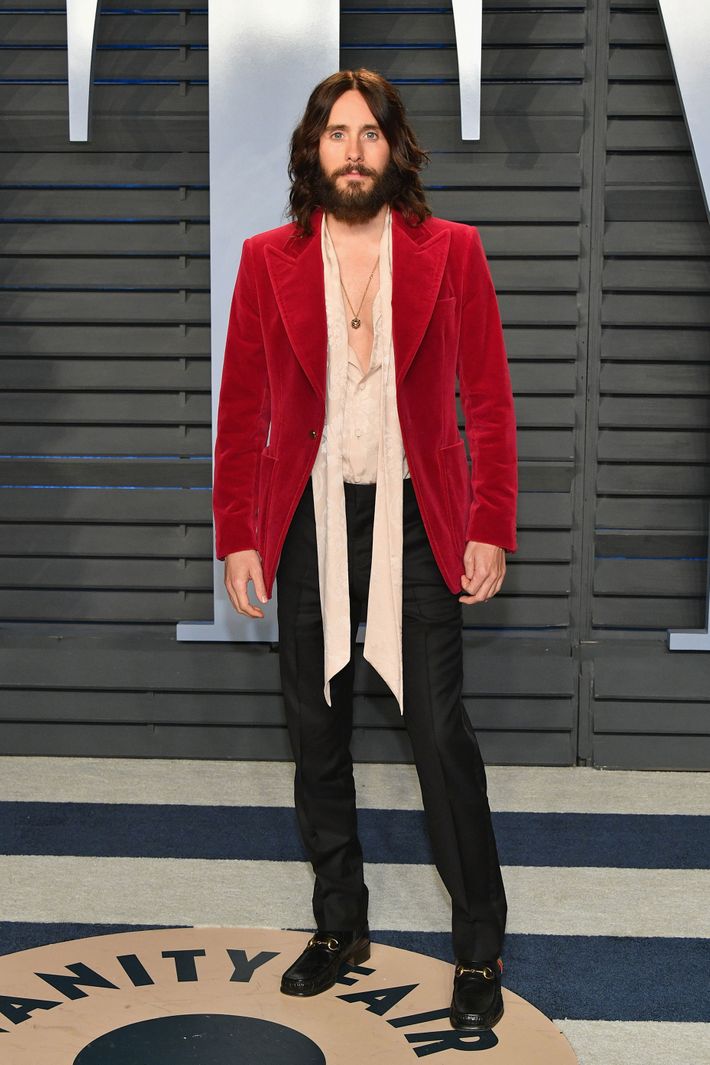 Leto is a dead ringer for Gucci designer Alessandro Michele in this look.
Best Suit: Angela Bassett in Teresa Helbig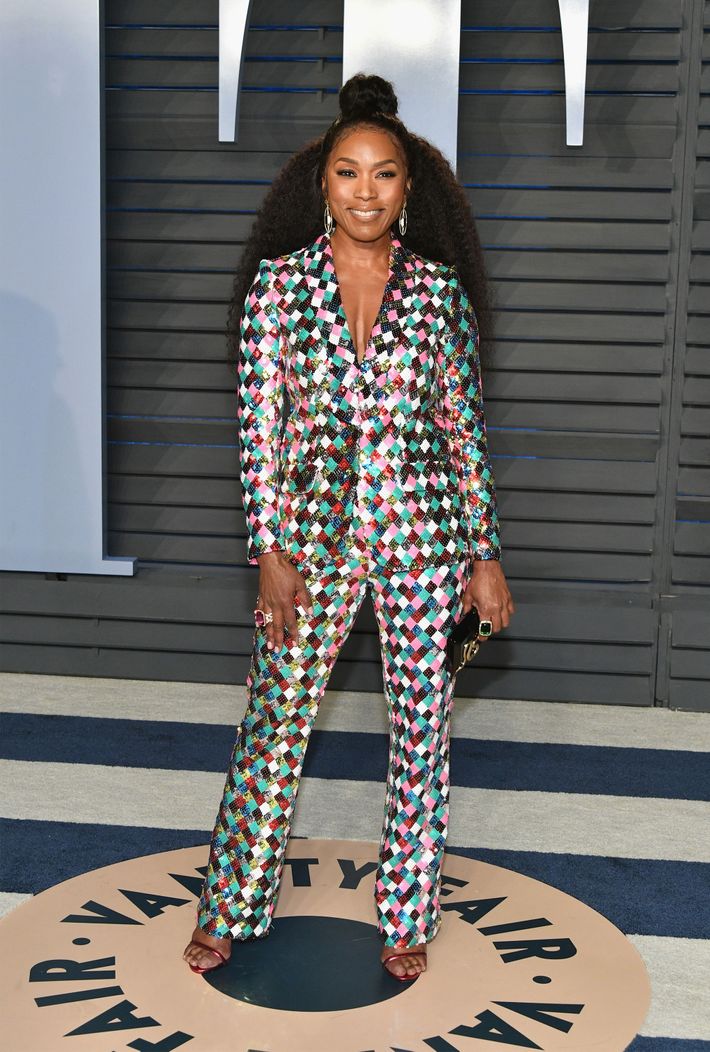 This sparkly suit has everything: glitter, mint green, millennial pink, a deep V-neck. What more could you ask for from a suit? Nothing.
Best Coordination: Greta Gerwig and Friends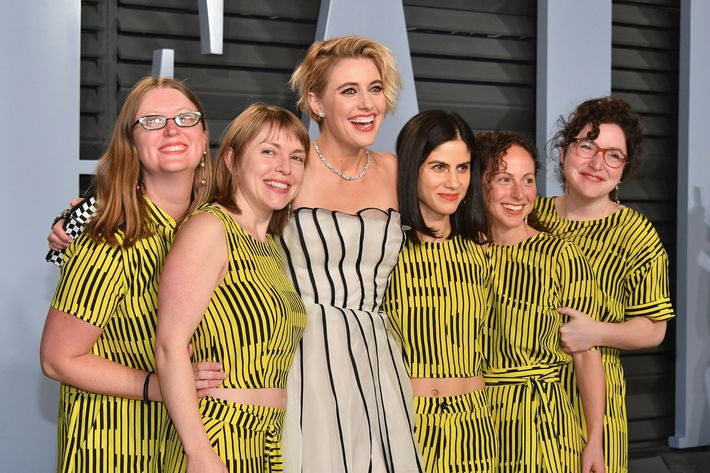 Greta Gerwig may not have won the Oscar for best director (it went to a man) but she did have the best group of friends join her at the after party. In neon striped bumble bee–esque ensembles, no less! Julie and Lady Bird would be proud.