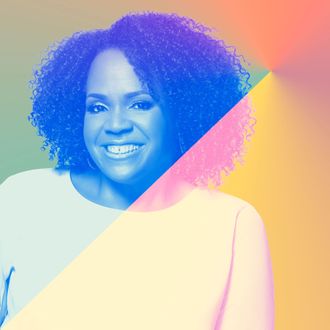 Lisa Price had always been a big Prince fan, but when she learned about one of his side projects, her appreciation for the musician evolved into a passion that would change her life.
"I remember learning that he was really into fragrance. He'd collect different scents and create his own mixtures, and that fascinated me," recalls Price. "When I saw that he did that, it encouraged me to start blending my own."
That blending led Price to build what would eventually become Carol's Daughter, her world-famous natural body and hair-care brand, which has won its loyal following with best sellers like Black Vanilla Shampoo and Hair Milk Leave-In Moisturizer.
Price was working full-time in television production (The Cosby Show, Cosby spin-off Here and Now), but she would head home after work and learn all that she could about essential oils.
In 1992, she left TV to devote all her time to her products. She turned her kitchen into her factory; her counter, the local flea markets in her Bed Stuy neighborhood. Word rapidly spread, and two years later, she stamped an official brand name on her potions (yes, mom is Carol). In 1999, she opened a store for her loyal customers, including some recognizable faces with names like names Jada, Erykah, Rosie, and Halle. In 2014, the brand was sold to L'Oréal USA, and a subsequent exclusive collection launched in Target the following year.
Despite the L'Oréal deal, Price, who wrote about her trajectory in her 2004 book, Success Never Smelled So Sweet, says it's business as usual at Carol's Daughter HQ. Her work ethic is guided by one person in particular.
"I remember watching Oprah when I was a guest on her show. She was so approachable, but you could feel her power, too," remembers Price. "After her show went off the air, the O network rebroadcast its final season, which also included behind-the-scenes elements. Watching how she was with her team helped teach me how to be a better leader and boss.
"I've often been told, 'You're too nice, you have to be mean,' to which I say, 'No,'" says Price, firmly (but nicely), "There needs to be a balance. You don't have to become mean to be a strong leader."
She maintains that balance with regular classes at SoulCycle, along with a more recently added outlet: "I've been knitting since August 2016. I haven't made a sweater yet, but I've knitted scarves, and I'm working on my first shawl and poncho. It's very, very relaxing. Those two things keep me sane."
So, with Jada, Halle, and Erykah as clients, is there anyone still on Price's customer wish list?
"Oh, Cardi B. I'd give her my Monoi line and the Almond Cookie ones," she smiles. "Cardi B. That would be the greatest endorsement ever."
What do you cleanse with?
La Roche Posay Effaclar Cream Cleanser and Shu Uemura Face Cleansing Oil on my face, and Carol's Daughter sulfate-free shower creams on my body.
What scent do you wear?
Currently, Promise by Dominique Ropion for Frederic Malle and D.S. Durga Vio Violetta.
What product in your domain is misunderstood and should be a best seller?
My Monoi Anti-Breakage Spray. Hands down, it's the best leave-in conditioning spray on the market. I use it every day, I travel with it. Can't live without it.
Shoe of choice?
Chuck Taylors low top — in every color, and in both canvas and leather.
What phrase or word are you known for saying?
"Not sure. Have to ask."
What drives you crazy?
Poor grammar.
What is a lost art?
Writing correctly, and paying attention to spelling and punctuation.
What is always in your fridge?
Rose petal jam.
What should Pantone's color of 2018 have been?
I am happy with what it is. I LOVE purple. All shades of it. From the palest lavender to the deepest aubergine.
What do you splurge on?
Beautiful handbags.
Preoccupation?
Organizing my house.
What technology or app do you rely on most?
My iPhone and Uber, for sure. My other favorites are Instagram, Netflix, Ravelry, and Scrabble.
Favorite Instagram?
@laylajfelder
What or who makes you laugh?
Chris Rock, Bill Maher, and Tiffany Haddish.
Favorite meal and where?
Gracias Madres, a vegan Mexican food restaurant in L.A.
What do you wish you had invented?
Uber.
What do you foresee as the top beauty trends in 2018?
More glitter, more matte, more highlight. It is all about having options for all.
If you won the Power Ball tomorrow, what are the first five things you would do? (after, of course, donating the majority of it to your top charities … )
Set aside enough money for each of my children so that they will forever have the option of working for passion and not a paycheck; buy property — for my own use and property for others to live in; find new businesses in which to invest; fund a good and meaningful film project and become a movie producer, then, executive produce a TV series.