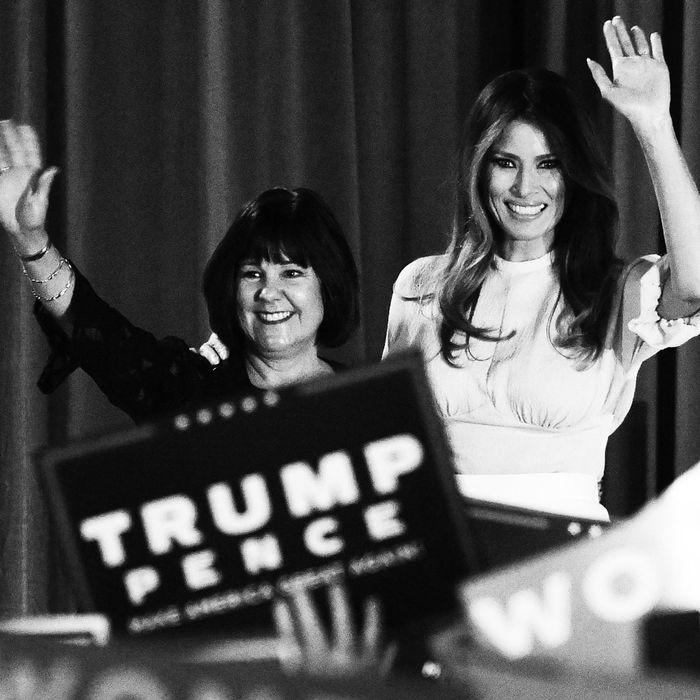 Karen Pence and Melania Trump.
Photo: MANDEL NGAN/AFP/Getty Images
In an Instagram post dedicated to Women's History Month, the GOP attempted to bolster its dubious claim that Donald Trump has excelled at appointing women to senior-level positions by featuring photos of women who are not political appointees.
While Trump did in fact name some of the women in the ten-photo post — men's-rights activists ally and Education Secretary Betsy DeVos, RNC Chairwoman Ronna McDaniel, and U.S. ambassador to the United Nations Nikki Haley, for example — he did not appoint First Lady Melania Trump or Second Lady Karen Pence. Oh, and Ivanka, who is technically an unpaid government employee, is also in there. Congrats to Trump on "empowering" the women in his family! (Sorry, Tiffany.)
The post, which is really quite embarrassing, reads: "Contrary to mainstream belief, @realdonaldtrump has appointed more women to senior-level government and campaign positions than previous administrations. He's empowering ALL Americans with his winning agenda. Take a look at some of these leading ladies."
Considering that in March 2017, Trump had hired women to fill just 27 percent of the total openings in the administration, the GOP could've just … not posted this.