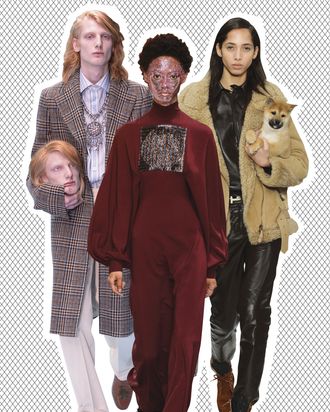 From Left: Gucci, Giambattista Valli, and Tods.
Photo: Imaxtree
For better or worse, social media has changed the runway. Designers know that their audience isn't just editors, buyers, and influencers; it's anyone with an Instagram account. And to resonate on an iPhone screen, shows need to be bigger, more dramatic, more elaborately staged.
To court the virtual crowd this past fashion month, some designers relied on puppies, some relied on drones, and some opened their shows with Gen-Z celebrities. Below are the best Instagram stunts from the runways of New York, London, Milan, and Paris.
Most Inventive Invites
Alexander McQueen ensured that the front row stayed warm and cozy. Invitees got personalized sweaters with their names embroidered into the label.
And what better to wear with your invitation sweater than a pair of yellow sustainable socks? Not only did Stella McCartney's invite involve free footwear, but later, she created puppets of Anna Wintour, Grace Coddington and Suzy Menkes. Now, it appears sock puppets have caught on as actual street style.
Best New Ways to Carry a Handbag
Dolce & Gabbana and Gucci both understand that a model holding a handbag carries no shock value. So instead of sending bags down the runway on the arm of someone young, tall, and beautiful, Dolce & Gabbana flew them down the runway on drones.
While D&G did away with the models, Gucci did away with the bags. Some models walked with replicas of their own heads. Others carried dragons. Again — humans carrying bags are so passé.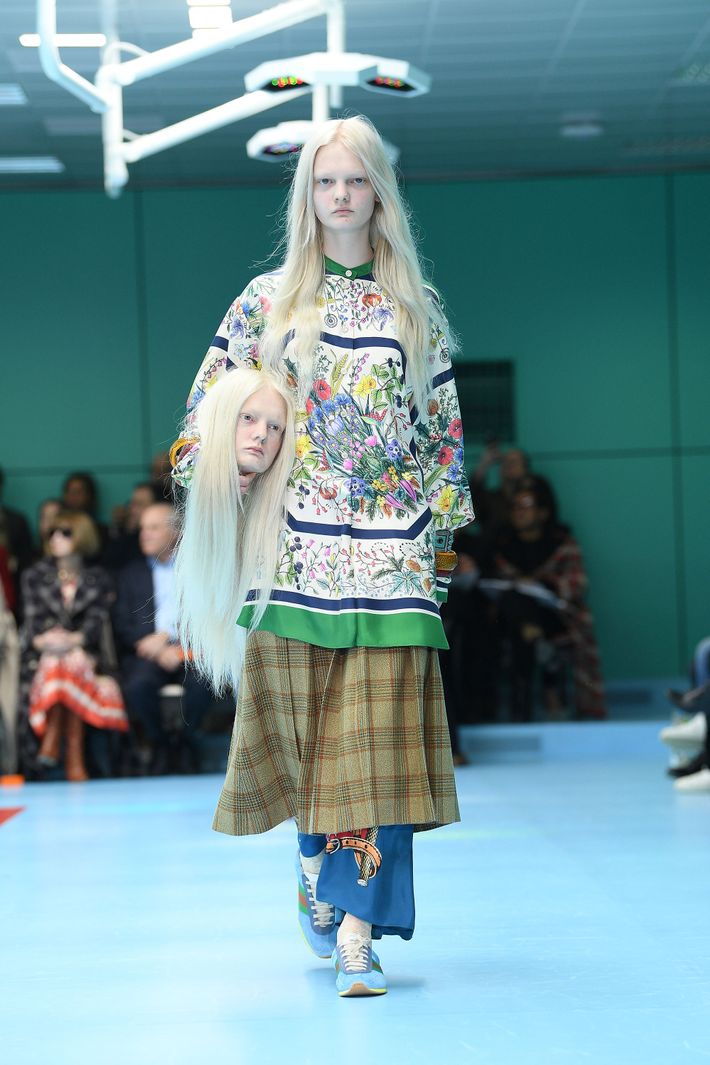 Best Dogs
Thom Browne loves a stunt, so maybe it shouldn't have been surprising that he opened his show with a bunch of men wearing dog heads (and impeccably tailored suits). He's used dogs in his designs many times before.
Tods, on the other hand, doesn't seem quite as obsessed with our canine friends, but the brand had models (including Gigi Hadid) carrying puppies on the runway. So far, the Year of the Dog is off to a good start.
Best Celebrity Openers
Stranger Things star Sadie Sink opened Undercover's show in an all red ensemble (we approve). Elle Fanning, noted Miuccia Prada muse, opened the Miu Miu show in Paris sporting a gravity-defying '80s hairdo. This is a tried-and-true way to generate buzz around a show.
Best Makeup
Being a model took commitment this season. Moschino painted models candy colors to express an elaborate conspiracy theory about Jackie O being an alien. Giambattista Valli doused models' faces in glitter (can you imagine how long that would take to get off?). And Noir Kei Ninomiya took freakebana to the next level and covered models' faces with bouquets of dark flowers.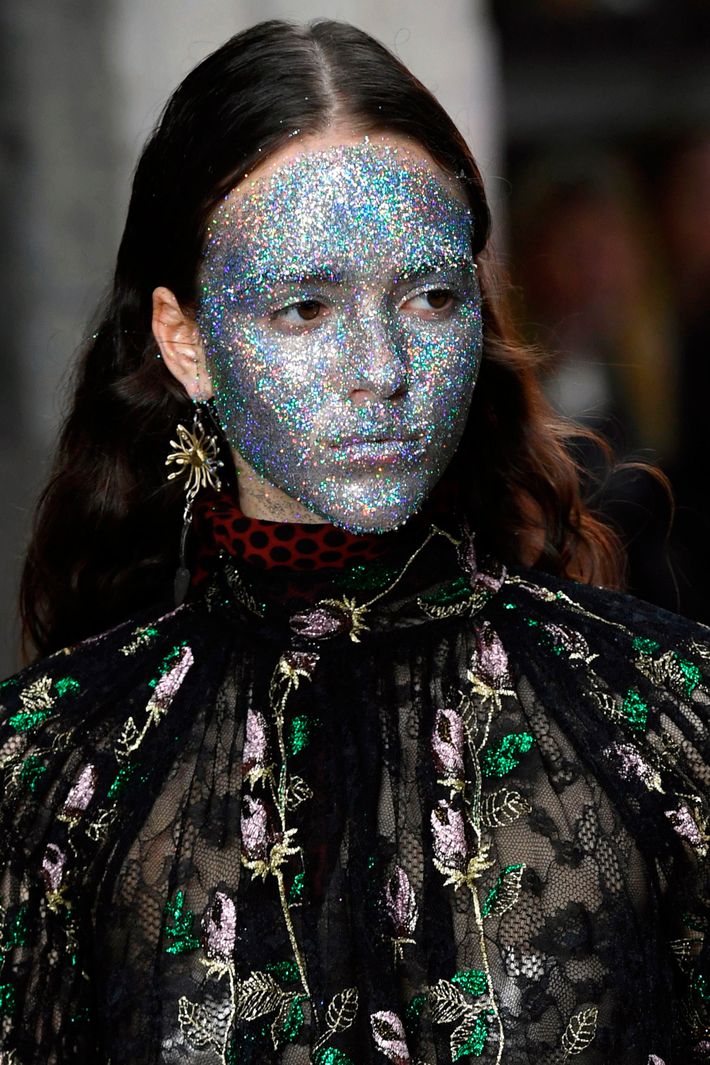 Best Sets
And finally, the sets. Oh, the sets. We began this season with Philipp Plein's spaceship romance and Calvin Klein's popcorn-filled movie set in New York. As the month went on, the sets continued to be larger-than-life.
Christopher Bailey dedicated his last show at Burberry to the LGBT community. His cast of models, led by Cara Delevingne in a rainbow fur, took their final bow under a rainbow light display titled "Spectrum." Happy models and bright lights are great #content.
Versace showed at The Hall of Caryatids in Milan's Palazzo Real, which was already beautiful before Versace entered it.
Balenciaga created a graffiti mountain (which many used as a photo backdrop, naturally) and revealed that ten percent of every fall 2018 item sold would go to the World Food Programme. Because the brand can't resist a little bit of trolling, they also made a hotline which would ask you an innocuous set of questions. Oh, Demna, you've got us again. You'll always be the best at Insta-bait.