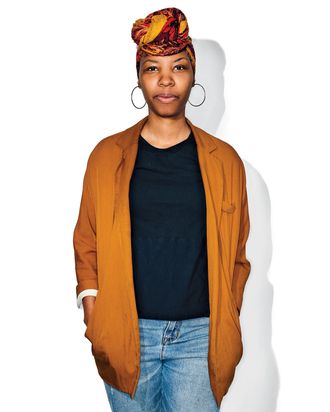 "You can say I'm single and ready to mingle."
Photo: Bobby Doherty/New York Magazine
Autumn Robinson, Director of Operations
How long have you lived in New York?
For about ten years. I grew up in Cambridge, Massachusetts, and really focused my entire childhood on getting out of there and coming here. I remember telling my mom when I was about 10, I was like, "I am leaving. I will first go to a black college and then I am not coming back." I ended up going to an HBC, Hampton University, and spent a summer interning in New York at MTV while selling CDs on the street.
Selling CDs on the street!
Yeah, I was leaving MTV one day in Times Square, and I walked by this guy trying to sell me his CD, and I was like, "I don't have money, but I can sell them for you if you give me half of your profit." So he said yes, and I did that, was able to pay my rent. He was a hip-hop artist.
Did he ever make it onto MTV?
No, he did not. His music wasn't that good, by the way.
Lightning Round
Neighborhood: Harlem.
Roommates: Currently looking for one.
Dating? "You can say I'm single and ready to mingle."
Last good book read: "I just reread The Alchemist, one of my favorite books."
Watching: "The Chi and This Is Us — I almost fell apart after the Super Bowl episode."
Style: "Laid-back chic. That's all I've got for you." 
*This article appears in the March 19, 2018, issue of New York Magazine. Subscribe Now!