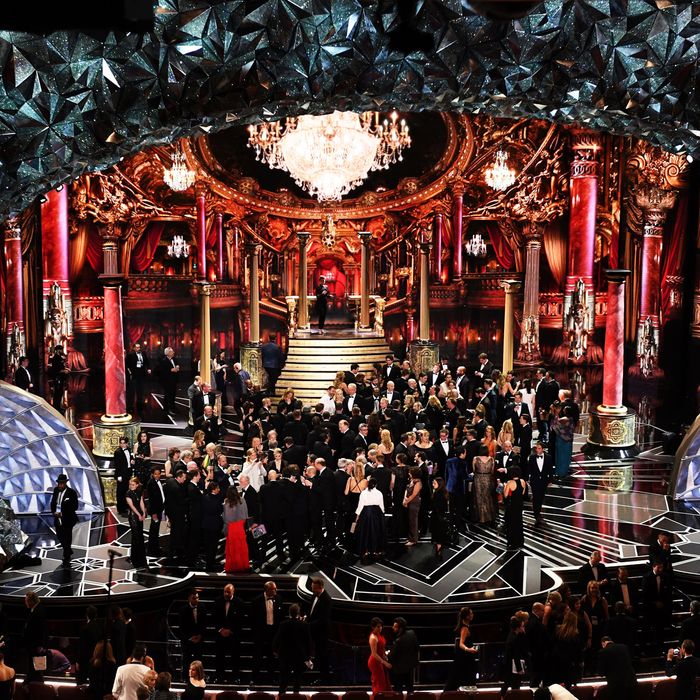 The set of the 90th Academy Awards.
Photo: MARK RALSTON/AFP/Getty Images
Wait, what is it about the Oscars sets this year? They could have been all rigorous modern with etched black-and-white flats, right? They could have followed the seriousness of the Me Too hashtags and been reverently solemn, but that's not what we are seeing. It's all razzle-dazzle and bling! It's pure Hollywood showtime, and why NOT!? Just like in the Great Depression when Hollywood churned out big musicals to the aching masses, we're in need of some glam relief, no? But seriously, the sets have a distinctly Tony Duquette vibe. Tony designed sets for MGM when the big Hollywood musicals were in high gear, and I am thinking specifically of Lovely to Look At, MGM's 1952 musical starring Howard Keel, Kathryn Grayson, and Zsa Zsa Gabor, where the big finale featured a set that Tony worked on as part of the Freed unit, along with Adrian and Vincente Minnelli, creating human candelabra, glittering pagodas, and antlered dancers, in short a confection of fantasy and glamour as only Tony could bring to life …but the sets tonight also channel Cedric Gibbons who was one of the founding members of the Academy of Motion Pictures and a set designer, and they also throw in a touch of the neoclassic panache of Hollywood Regency defined by the work of John Woolf and Billy Haines. Am I going overboard here? Maybe, but it's nice to see the Academy cut loose and reference some of the historic aestheticians that Hollywood spawned in its heyday of what we call, or they called, glamour … think Jean Howard's Hollywood, come on! It WAS. Oh and Dorothy Draper too! Hooray for Hollywood and hooray for glamour! However you take it.
Also, there was this interpretation: