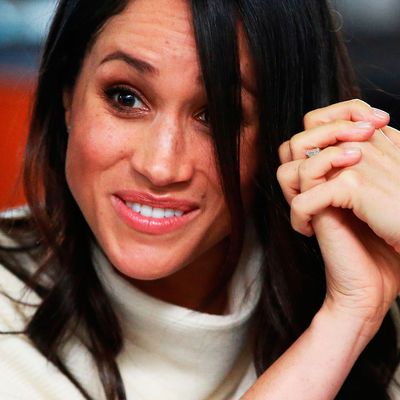 Meghan Markle wearing
the
bracelet.
Photo: IAN VOGLER/AFP/Getty Images
Meghan Markle can't make a single beauty- or fashion-related decision without hundreds of people simultaneously analyzing it: her messy bun, the lip gloss she wore to the Queen's pre-Christmas brunch, and even her J.Crew topcoat. Most recently, the princess-to-be was spotted wearing a new diamond cross bracelet — an accessory People decided to investigate.
It appears that the delicate chain, which she layered over the $925 Horizontal Bar Bracelet from her favorite brand Birks' Rosée du Matin collection, is a baptism gift. While Markle was brought up Episcopalian, she was baptized by Archbishop of Canterbury Justin Welby at St. James's Palace Chapel Royal earlier this week, during which holy water from the River Jordan was poured on her head from the royal family's private font.
Though Queen Elizabeth sadly missed all the holy water pouring, Markle's baptism — and now, this bracelet — were pretty obviously done out of respect for the Queen, the titular head of the Church of England. Someone's working hard on being an excellent granddaughter-in-law!