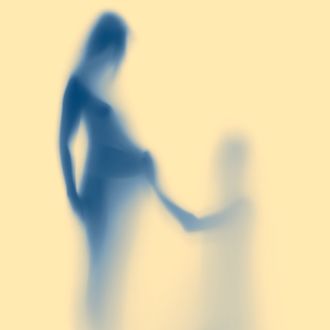 Photo: belphnaque/Getty Images/iStockphoto
When I was 28 years old, my fiancé was killed by a box jellyfish in Thailand. Sean and I had spent the summer backpacking through China, which in 2002, hadn't been easy. We'd gone to Thailand for a short break, to relax and slow down at the beach. We'd gotten engaged ten days earlier, and had only found out after that I was pregnant.
Sean was holding me in the warm, shallow water off Ko Pha Ngan when the jellyfish wrapped around his legs below me. He rushed to the water's edge and collapsed on the wet sand. Before I had the chance to tell him I loved him or beg him to stay with me, to say good-bye or even scream, he was dead.
We'd met almost four years earlier, at a cheap hostel in Barcelona. We'd traveled together through Europe, North Africa, Australia, and the U.S. He was smart, silly, charming, and loyal, and no one had ever made me feel so safe. Sean was from Melbourne, only 25, and had been teaching marketing in China. I'd grown up in California and was halfway through a Ph.D. in marine biology. We had so many plans, all the way through our retirement and grandchildren.
It was days before the Thai authorities would release Sean's body. I stumbled around the island of Ko Pha Ngan, dealing with phone calls to his insurance company and his parents, my parents, the Australian consulate, and the airlines. I understood almost immediately how hard it would be to make sense of a world without him, or the future we'd dreamed of together.
But I wasn't prepared for the crushing physicality of grief. I couldn't sleep and was constantly cold, even in the August heat in Thailand. I couldn't stop crying, and everything seemed too bright, too loud, too still. When I tried to force myself to eat because of the pregnancy, my throat would close like a fist. I was unsteady and queasy and jumpy, and felt at any minute, I might yell or faint or be sick. I'd turn a corner on a dusty track near the beach where he died, and would feel the dry, tickly ghost of his hand in mine, his breath on the back of my neck. I missed his body as a hunger.
Those first few shock-filled days were surreal. Whenever I was finally alone in our cabana by the beach, it was as if Sean were there with me. His voice inside my head, his powdery scent on his things and still lingering on the clown-printed sheets of our bed, the smell of his fudge hair putty on the pillow. And what would replay over and over in my mind were the physical sensations from that evening — the warm waves at my ankles as I knelt by him on the wet sand, the hollow cadence of his last breath, the mechanical rise of his ribcage as I forced my air into his lungs, the salt on his skin and his cold curled fingers.
More than anything, it felt as if I also could no longer breathe. As if the ocean were crashing in through the cracks in the walls, and my lungs were slowly filling with seawater.
Four days after Sean died, a driver took his body to Bangkok and I flew to meet them. That night I had a miscarriage, in the air-conditioned, white hotel bathroom. The pain was twisting and deep and kept coming in waves. I spent the entire night alone on the bathroom floor.
***
From Bangkok, I flew with Sean's coffin to Melbourne. By the time he was buried, I'd spent ten long days with his body. I would have given anything to have his warmth touch my skin again, but after his funeral I missed even his dead body — the heavy weight of the responsibility of getting him from Ko Pha Ngan to Bangkok and finally back home.
I spent the month after in California — bouncing from my parents in Davis to my brother and best friend in L.A. to my graduate program in Santa Cruz — before taking off again and backpacking on my own through winter in Eastern Europe. I knew I was running from Sean's death, but I didn't know what else to do.
I still longed for him beside me, like the worst kind of itch. And it still felt as if I couldn't pull enough air down into my lungs. But I was at least sometimes somewhat distracted by out-of-date train schedules in Cyrillic, how to find cash and food and hot showers, and where I would sleep when it was 15 below outside.
Nights were the hardest. I was disoriented in strange towns where no one spoke my language, with nothing to fill the dark hours except a book and my journal. This was long before everyone started traveling with a cell phone, and the places where I stayed didn't have internet or even TV. When I did try to sleep, I could only do so with my back pressed against the wall, or at least wedged against a pillow. It was a position I'd never slept in before, my body curling itself into a tight ball.
The nightmares came thick and fast. Sean and I were fighting even though I knew I'd never see him again. Someone was drowning right next to me but I couldn't reach through the water to save him. Everyone I loved was suddenly killed in a horrible car accident. I'd had our baby, but now he was lost and I couldn't find him anywhere.
Insomnia seemed preferable. And as the weeks went on, I found I could eat more to make up for the lost sleep. Occasionally it would be the other way around, and I would sleep more to make up for a lost appetite. But mostly, I found myself craving fat and calories in Eastern Europe's freezing winter temperatures. I savored greasy foods I wouldn't normally order, like vyprážaný syr, Slovak fried breaded cheese, and čevapi, a Bosnian dish with raw onions and sausages. In state-subsidized milk bars in Poland, the dinner ladies would ladle oil over plates of pierogi and the result was delicious.
Eventually, I knew, I had to stop running and return to my Ph.D. and a life without Sean. But I wasn't ready. After months of traveling, I wasn't any less shaky. Although I did go back to my degree in marine biology, I didn't touch the ocean again until the year anniversary of his death. Even then, nothing changed. I cried often. I would have traded everything to have his baby.
Fourteen months after Thailand, I was on a short solo vacation in Vanuatu. It was the first time I'd gone scuba diving since Sean died. One hot late afternoon, I was walking alone down a dirt road and talking to him. There was a long, deep, physical inhale. After all those months, it felt as if I were finally coming up for air. Just that single moment, and I could at last breathe again.
***
If my life were a movie, that's where the film would end: an actress, younger and prettier and skinnier than me and probably in a bikini, filling her lungs and walking off with a small, slightly sad smile into the sunset. The audience wouldn't see the years ahead of ups and downs, the continued nightmares, insomnia, flashbacks, anniversaries, and survivor's guilt. The struggles with hope, love, fate, the ocean, and relationships that would all happen off-screen.
Because I continue to carry his weight. His voice is no longer in my head and I've long lost the memory of his smell, but Sean and his death have slowly become a part of who I am. I'm now a single, divorced mother of three young children, living in London.
My memoir, Traveling With Ghosts, about the journey I took through Eastern Europe after Sean died, came out last year. Fifteen years later, I don't even know who I would be without him.
Recently, I read that women carry fetal cells long after pregnancy, a phenomenon scientists call microchimerism. The fetus's DNA migrates into the mom's bloodstream and is absorbed into her tissues, such as her lungs, brain, kidneys, liver, and heart. That genetic material then becomes integrated with the mother's own, forming entirely new cell lines in these tissues. Which seems to me the perfect physical manifestation of my grief — pieces of Sean absorbed into my own being, lodged in my brain and my heart, his loss now an inextricable part of my blood, my body, my life, my story.
Shannon Leone Fowler is a writer and marine biologist. Her memoir, Traveling With Ghosts, is out now in paperback from Simon & Schuster.