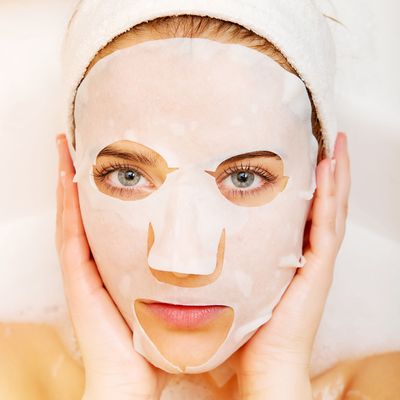 Photo: Piotr Marcinski/EyeEm/Getty Images
In recent years, it's been permissible or a demonstrable source of Instagram pride to moisturize and look really creepy doing it. Sheet masks are everywhere — Gigi Hadid is doing them and telling Into the Gloss she looks like a "cute" murderer, Chinese actress Fan Bingbing wears them while signing autographs, and they've even made an appearance in our Sex Diaries as a getting-ready ritual. There is even a stand-alone store in NYC devoted to selling just sheet masks, called The Mask Bar.
Compared to face masks, which have supposedly been around since Cleopatra's day, sheet masks are a relative newcomer to the skin-care industry. But how do these mysterious, moisturizing, burglar-looking masks actually work, and are they better for your skin than just regular face masks or moisturizers? To answer the most commonly heard questions about sheet masks ranging from what's actually in them to how often you should do them, Cut talked to several K-beauty experts and dermatologists to find out.
What's a sheet mask?
Simply put, it's a mask in a "sheet" form — made of fiber, cotton, cellulose, or coconut pulp, with holes, like a soft version of a Sleep No More mask. It's wet, cool, and usually dripping straight out of the package, because it's infused with a liquid cocktail of hydrating ingredients. You place it on your face by lining up the holes over your eyes and mouth.
But why?
It's relaxing (if you don't have claustrophobia). Sheet masks work as an occlusive — a physical barrier that seals your skin with a mixture of good-for-you ingredients. Physician's assistant Laura Dyer at Dr. Amy Wechsler Dermatology says, "The physical mask prevents the evaporation of beneficial ingredients." Victoria Beckham's dermatologist Harold Lancer explains that the mask "maximizes the treatment." Think of a sheet mask as saturating your skin in a temporary but effective moisturizing sleeping bag of skin care, where good stuff gets in but nothing gets out.
What is in this thing?
Much like the human body, the primary ingredient in sheet masks is water. It's the first ingredient listed on a $17 SK-II sheet mask or a $1 Innisfree sheet mask. Alicia Yoon, CEO of Peach & Lily explains that water is in your skin care because it's a carrier and complementary ingredient. "Many sheet masks use botanical extracts and other ingredients that are hydrophilic, and pair best with water. Moreover, having water in the formula can help with delivery to the skin." Water can make stronger ingredients more palatable to the skin, she adds.
After water, you may see a bunch of ingredients ending in -ol: butylene glycol and dipropylene glycol. You may be wondering — does that mean your sheet masks contain alcohol, a known dehydrator of skin? What is that doing in there, and does it make sheet masks a lie?
No, not all alcohols have the same characteristics. For example, butylene glycol is an organic alcohol that's often used for conditioning, and is a humectant. Yoon confirms that it helps bind moisture to the skin and is one of the gentlest glycols. It also has a few other benefits. "It can help cut the viscosity in sheet-mask formulas to make the texture less sticky and heavy, it can be a solvent in the formula, and it can help prevent the formula from drying out." In addition to the other ingredients, Dr. Lancer explains that a mask is typically infused with other ingredients like stem cells, hyaluronic acid, or peptides.
How do sheet masks get made? Can these things really be made off an assembly line?
Yes. Sarah Lee, Co-founder of Glow Recipe explains that she's even seen workers hand-fold sheet masks with tools on a completely sterile assembly line (after going through a decontamination shower), of course. Yoon says that she's seen sheet masks folded into a pouch, and then filled with essence, and heat-sealed. "Sometimes there is also a machine that lightly rolls over the sealed masks to spread the essence around inside of the pouch, too."
What does a sheet mask actually do? Are there scientific studies?
Does having your skin look radiant, plumper, more bouncy, brightened, luminous, more hydrated in 10 to 12 minutes sound good to you? Then sheet masks are for you. Simply put, Dr. Lancer calls sheet masks an effective form of beauty sleep. "Sheet masks are great because it allows the skin to 'rest' while it is saturated in hydrating, brightening, or anti-aging ingredients and giving an extra boost to your current skin routine when you need it the most."
Unfortunately, there are no independent scientific studies that test the benefits of sheet masks, but every expert we interviewed agree they're a great addition to a skincare routine and add incremental benefits. Yoon adds that sheet masks have a simple, effective, moisturizing-added benefit. "Dehydrated skin means a more vulnerable skin barrier and less than ideal skin environment, which generally leads to more inflammation, faster collagen breakdown, more breakouts, and more hyperpigmentation. Sheet masks effectively gets moisture back into skin."
How do I know which one to pick?
Don't get too weighed down by decision fatigue. The good thing about sheet masks is that they are great for a variety of skin types and come in a lot of price points, ranging from luxury to "why is this so cheap?" prices. Dr. Lancer says, "By design, the majority of sheet masks are intended to be hydrating or soothing so there is very low risk for any adverse outcomes." If you're looking for hydration, hyaluronic acid, a scientifically proven ingredient that draws water to the skin is often included. For brightening, you'll often see Vitamin C and kojic acid.
Reddit skin-care obsessives look at sheet mask ingredients, but the sheet mask material itself makes a difference. Yoon concurs that it's not conjecture, and can contribute to the sensorial experience. "Some materials are not as good at holding some types of essences. For example, if the essence has a thicker, creamier texture, then a thin cotton mask might fall apart under the weight of that essence (imagine a thin tissue disintegrating under water)."
I personally prefer ones made of gel or plant pulp, because I feel like they cling better to my face and result in less drippage. Lee tells me that she's seen Korean masks made of unique materials like cupro fibers (sometimes called "cotton wool," derived from the fibers that encase cotton seeds), which hold more serum than regular cotton masks.
How often should I do it?
Michelle Yeoh sheet masks every single day, rain or shine, hungover or not, which explains a lot. Lee does up to six sheet masks in one flight alone, and even does them in traffic. One of Yoon's friends, who is Korea's first Playboy model, has done one every day for seven years. Most experts agree that doing them even a few times a week offers a benefit. Dr. Joshua Zeichner, Director of Cosmetic and Clinical Research or the Department of Dermatology at Mount Sinai Hospital, agrees that once a week is a good baseline. Dr. Lancer, one of Hollywood's busiest dermatologists for awards season often sees celebrities doing then every single day two weeks prior to an event.
How long should you leave them on for? Is there such a thing as too long?
Most sheet masks have directions for how long to leave a mask on, ranging from somewhere between 10–20 minutes. SK-II suggests 10–15 minutes on its packaging. Some people believe that the longer you leave on a sheet mask the better, but Christine Chang, co-founder of Glow Recipe believes it can actually have a reverse osmosis effect. "You should take your sheet mask off before the mask starts to feel dry. We don't recommend leaving it on for more than 20 minutes and we never recommend sleeping in sheet masks as once the mask is dry, they can actually absorb moisture back out of your skin."
Some Sheet Mask Favorites
When these masks sold out, they sold out in a week. Yoon formulated them by crowdsourcing from her customers to create three, non-sticky, super-clingy sheet masks that would be free of denatured alcohol, synthetic fragrances, parabens, sulfates, mineral oil, and formaldehyde, and leave behind an instant dewy glow.
One of K-beauty emporium's best-selling masks, this mask is incredibly made of actual seaweed kelp with reviewers praising its ability to soothe and hydrate.
I've been talking about this mask for three years, but I swear that it is even more hydrating than the SK-II mask. It's hard to convince people as these are so pricey, but everyone that has tried them is converted.
If you buy something through our links, New York may earn an affiliate commission.