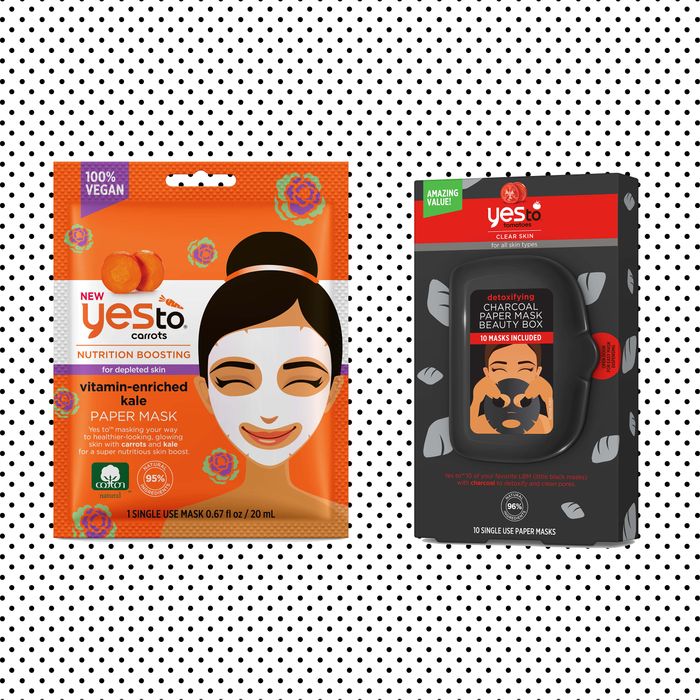 There's a saying that you don't go to Target for something specific, you go and let it tell you what you need. On your next trip, you may very well wind up with Yes To's newest sheet masks. The brand, which is most known for its food-inspired products, recently released a slew of skin-care products. Their latest items, Yes To Carrots Vitamin-Enriched Kale Paper Mask and the Yes To Tomatoes Detoxifying Charcoal Paper Masks, are supposed to purify and hydrate your skin.
The kale mask is drenched with a serum that contains hydration-boosting ingredients, as well as vitamins E and C. There's even extra serum left over in the pack, and it's gentle enough to use as a treatment the following day or after you use the charcoal mask.
The black charcoal paper masks come in a slim box of ten. Yes To cleverly named them the "LBM," which is also a handy reminder to use them before any big outing so your skin can look its best and purest. The mask contains charcoal and witch hazel to clear pores of build-up and primes skin for other treatments.
Both masks are meant to have a velvety-smooth feel. They're also free of parabens, silicones, and are Leaping Bunny Certified, which means they're cruelty-free, according to the Humane Society and other international animal protection groups.
The kale mask is available now at Target, and the charcoal mask is available at both Ulta Beauty and Target.
If you buy something through our links, New York may earn an affiliate commission.