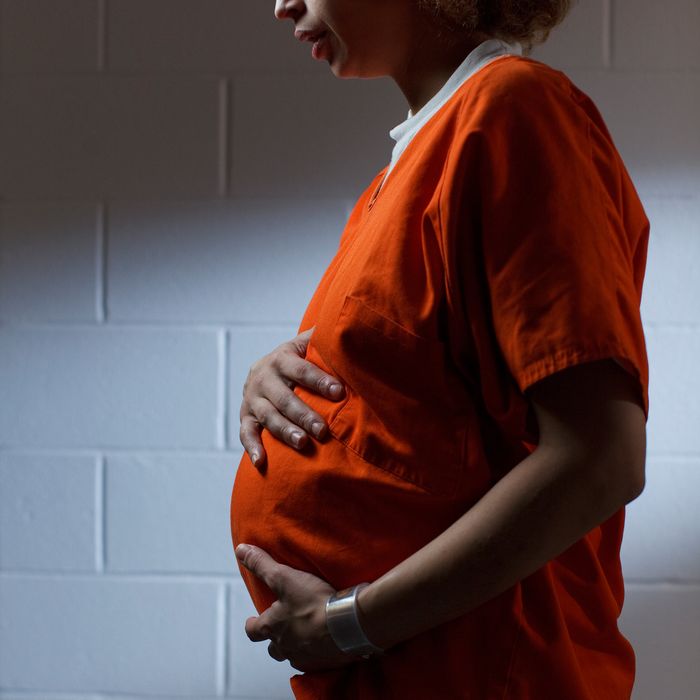 Only California, Illinois, and New York have banned the use of restraints on pregnant women.
Photo: Dina Rudick/Boston Globe via Getty Images
On Monday, North Carolina's Director of Prisons Kenneth Lassiter signed new policy that largely forbids the use of leg and waist restraints on pregnant inmates, The Guardian reports. The policy change comes after the Atlanta-based reproductive justice organization SisterSong raised concerns about reports that two prisoners had been restrained during childbirth at the North Carolina Correctional Institute for Women.
The new policy still allows for female inmates to be cuffed at the wrist while being transported, but maintains that the restraints, barring "reasonable grounds to believe the offender presents an immediate, serious threat of hurting herself, staff or others" or "an immediate, credible risk of escape," should come off as soon as contractions begin and remain off during post-birth skin-to-skin bonding.
North Carolina joins 18 other states in addressing the issue, but six states — Utah, Nebraska, Kansas, Indiana, Georgia, and South Carolina — have no policies in effect banning or restricting the shackling of female inmates in labor.
Last summer, U.S. senators Cory Booker and Elizabeth Warren introduced the Dignity for Incarcerated Women Act, which would ban the shackling of pregnant inmates at the federal level. The American Medical Association and the American College of Obstetricians and Gynecologists, among many other medical organizations, strongly object to the practice. According to the ACLU, about 12,000 (6 percent) of the 200,000 female inmates in U.S. prisons and jails are pregnant at the time they are incarcerated.