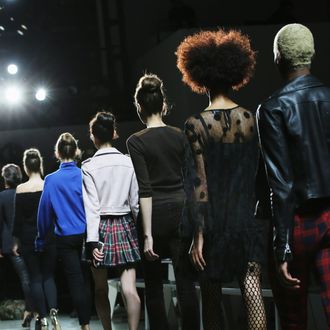 Photo: Jemal Countess/Getty Images
On Thursday, the Fashion Spot released its seasonal Diversity Report for fall 2018. The results underscored the industry's tendency to take two steps forward and one step back. This was the most racially diverse and transgender-inclusive fashion month ever, for example, but there are still strides to be made in age and size diversity. When you look at the numbers, you might stop clapping.
Below, a summary of the Fashion Spot's findings:
Race
This season, more women of color walked the runway than ever before, but they still make up a small fraction of models. Only 32.5 percent of all castings went to models of color, which is a 2.3 point increase from spring 2018 (7,608 models walked this season in total).
Per usual, New York was the most racially diverse city, followed by London, Paris, and Milan. This is the first season that nonwhite models accounted for over 30 percent of Parisian castings. Meanwhile, in Milan, this was the first season the number of models of color cast exceeded 25 percent.
One notable moment in Milan was when Sudanese model Anok Yai became the first black model to open a Prada runway show since Naomi Campbell in 1997. That's 20 years.
Gypsy Sport had the highest percentage of models of color, at 80 percent, followed by Chromat, Matthew Adams Dolan, Jeremy Scott, and Brandon Maxwell, all of which were over 70 percent. Outside of New York, the only European show to make the list was London's Ashish, which cast 79 percent models of color.
Size
Only 30 plus-size models walked in all four cities this season — down from 38 during spring 2018. Two walked in Paris, one in London, and none in Milan. In New York, designers Christian Siriano and Chromat picked up the slack, casting ten and nine plus-size models, respectively.
Gender
Sixty-four transgender women and non-binary models (56 transgender, eight non-binary) walked in 52 shows — an all-time high for the industry. (Last fall, only 12 trans or non-binary models walked in five shows.) The Fashion Spot notes that model Teddy Quinlivan, who came out as transgender in September of 2017, was responsible for roughly 39 percent (25) of the trans and non-binary model appearances this season.
Age
For fall 2018, only 13 models were age 50 or above — or 0.2 percent of those on the runway. Eckhaus Latta, a brand known for its diverse casting, booked two women over 50. None were cast in Paris.
Clearly, there's a lot of room for growth in the fashion industry. The Fashion Spot's study suggests that a handful of brands are making a concerted effort to be more inclusive, while the rest are either sitting out or making small, oftentimes headline-grabbing gestures. Many of the more inclusive brands are just starting out, meaning they're making diversity a part of their DNA from the start, rather than playing catch-up.
The Fashion Spot's study did not include street style, but the Cut wrote in-depth about its lack of diversity here.