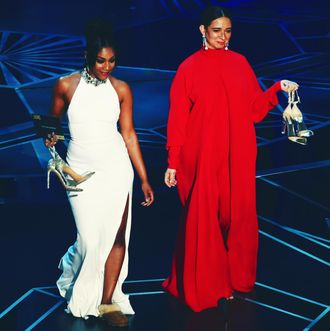 Tiffany Haddish and Maya Rudolph at the Oscars.
Photo: Kevin Winter/Getty Images
Back in November, Tiffany Haddish gave one of the best monologues in recent Saturday Night Live history, sharing her musings about many things — foster care, Donald Trump's hair, sexual assault … and why she was wearing the white Alexander McQueen dress she was wearing. You see, Haddish explained, she wore the dress on the Girls Trip red carpet, and it was so expensive, she decided to keep wearing it again and again. So she did just that at the 2018 Oscars.
Although Haddish wore an authentic Eritrean princess dress on the red carpet, she decided to change into her favorite white McQueen dress when presenting with Maya Rudolph at the Oscars. But the move should come as no surprise to anyone who actually watched her monologue, where she famously said that the dress cost $4,000 and that she intended to be one day be buried in it.
"This dress, I wore it on the red carpet for Girls Trip, and my whole team, they told me, 'Tiffany you cannot wear that dress on SNL. You already wore it. It's taboo to wear it twice,'" Haddish said during her monologue. "And I said, 'I don't give a dang about no taboo. I spent a lot of money on this dress. This dress cost way more than my mortgage. This is an Alexander McQueen, okay?'"
Let's take this opportunity to revisit Haddish's monologue and then re-wear our favorite outfits in her honor: