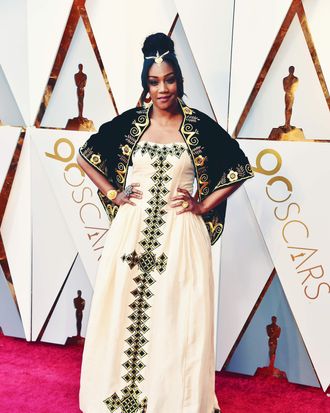 Tiffany Haddish at the 2018 Oscars.
Photo: Jeff Kravitz/FilmMagic
Tiffany Haddish, the saving grace of 2017, attended her first Oscars awards ceremony tonight dressed like royalty — literally. "My father passed away this past year, and he's from Eritrea and he said I would end up here one day," she told E! "I'm wearing an authentic [Eritrean] princess dress and I'm proud of it."
It's been a busy year for Haddish. Since her illuminating Girls Trip role, she's taught us new sex things to do with a grapefruit, the endless possibilities of a Groupon, and how not to approach Jay-Z when Beyoncé is around.
Haddish's Oscars' night outfit featured a gold-and-black cape and a golden diadem. Her makeup artist Dionne Wynn applied Lidstar, a new Glossier eye shadow set to go on sale tomorrow on Glossier.com (it's also the same mystery Glossier product Beyoncé wore to this year's Grammys). Wynn swept the liquid eye shadow in "Herb" all over Haddish's eyelid and lash line, and "Moon" along her inner corner, for a highlight effect.
Haddish capped her Oscar's night look with a high bun. To put it the way Haddish would: Oooh, she ready.