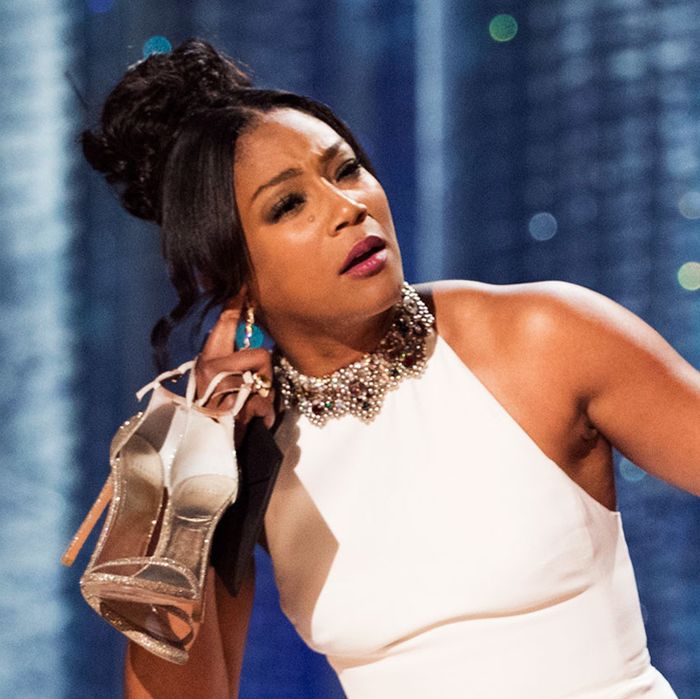 Tiffany Haddish and Maya Rudolph.
Photo: Craig Sjodin/ABC via Getty Images
Independently, Tiffany Haddish and Maya Rudolph were already both among last night's Oscar's MVPs.
To recap: Tiffany Haddish wore an authentic Eritrean princess dress to honor her father, chased down Meryl Streep who, by the end of 2018, will probably put in an official bid to be Haddish's Mama. She made good on a promise to get the most out of her favorite white Alexander McQueen gown and wore it a third time. I could go on.
And Maya — well, all she had to do was show up and the let the power of that Red Carpet Turt and the knowledge that she was the muse for Phantom Thread work their magic.
But teamwork is what makes the dream work, so when they were onstage together to present the awards for Best Documentary Short Subject and Best Live Action Short Film, they created a magnificent supernova of delight that nobody even saw coming. We love them so much! How did they earn our love? Some thoughts.
First, they were clearly having the most fun and being 100 percent themselves (and they are the best). Then there was their actual banter, which resulted in probably one of the best moments in an otherwise mostly snoozy night: When they congratulated each other on various moments of defecation in their respective comedic roles. It's really nice to see women supporting each other. And Haddish actually said "doo doo" on the Oscars stage — a coup.
But beyond that, it was the way they were able to serve up some pretty searing critiques within their bits, while still making me (and the world) howl with laughter. During a ceremony where the inclusion conversation has reached peak PR-friendliness, they reminded everyone that just because the cast of Black Panther showed up to burn our retinas with their beauty, the Oscars are still incredibly white. And two good Maya-Tiffany riffs on being surrounded by white people are more effective than any day-after think piece.
For the love of Hollywood, someone, please green-light and fast-track a future Maya-and-Tiffany project — be it moving historical drama, rom-com, superhero movie, or a sci-fi flick where they're astronauts … oh, or aliens! There is so much we can do. Here are a few ideas to get you started:
- The obvious choice: a 999-year contract hosting the Academy Awards.
- A simple dinner date that I'm allowed to attend. Paul Thomas Anderson can attend too. I don't even need to sit at the same table, I'm fine with sitting slightly within earshot.
- Remake of I Love Lucy where Tiffany is Lucy and Maya is Ethel. (Or vice versa; I don't care.)
- A Lifetime movie called, Mother, May I Sleep with D'Angelo about two women who are just trying to sleep with D'Angelo and it gets weird. Mother is played by Meryl Streep.
- An erotic thriller about two teachers at an esteemed boarding school in New Orleans. Is that after-school club actually a cult? Written by Barry Jenkins. Soundtrack by Solange.
- A buddy comedy about two women who run an inn and turmeric farm in Hudson. Nothing really happens, but they wear lots of cashmere, drink red wine, make croissants, burn candles, take lovers. Nancy Meyers directs.
- An afro-futurism movie about two professors at MIT and the army of robots they invent to give women orgasms and make men obsolete. Tessa Thompson co-stars.
- An HBO show about two women entrepreneurs who decided to buy and manage famed strip club Magic City. Issa Rae writes. Melina Matsoukas directs.
- Paul Thomas Anderson writes a Paul Thomas Anderson movie for them. Maybe a western!
- Jordan Peele, you want another Oscar, right? Tiffany and Maya will get that for you.
- Isn't Drake out there making movies? Drake. What are you doing? Tiffany and Maya are waiting.
- I dunno, just like a rap album with Drake, Maya, and Tiffany?
- What big budget thing was a studio about to pay Amy Schumer or Judd Apatow to do? Just make a swap.
- Scorsese? You want in? You're almost too late.