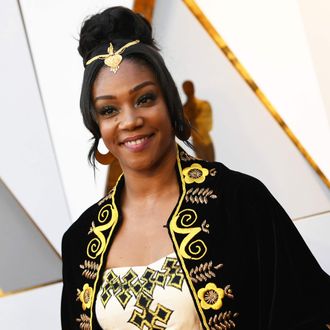 Tiffany Haddish.
Photo: Valerie Macon/AFP/Getty Images
At every awards show, at least one celeb, without fail, fangirls over the sight of Meryl Streep on the red carpet — there was Gina Rodriguez at the 2017 SAG Awards, Kelly Clarkson at the 2018 Golden Globes, and at this year's Oscars, it was Tiffany Haddish.
The Girls Trip star — who looks like a Eritrean princess tonight — had no chill as soon as she spotted Streep. Ditching the reporters to whom she was speaking, Haddish jumped a rope line to dart in front of Streep, who she gave a tight hug, followed by a quick curtsy.
Haddish also said something to Streep, but the words were unfortunately indecipherable. We can only hope that she asked Streep to be her mom, which she was hoping to accomplish this evening.
"I'm looking forward to meeting Meryl Streep and asking her to be my mamma," Haddish told E! host Ryan Seacrest earlier in the night.