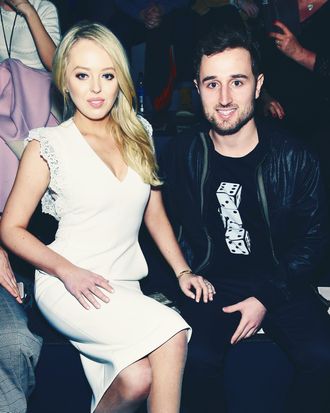 Tiffany Trump and Ross Mechanic.
Photo: Jamie McCarthy/Getty Images
Every time I'm reminded that Tiffany Trump exists, I'm also reminded her boyfriend is named Ross Mechanic (he is not a mechanic). But this is perhaps the last time I will experience the fleeting rush of dopamine from remembering this fact because, according to Us Weekly, the Trump-Mechanic union is no more.
They apparently went their separate ways in the fall after two years of dating because the nation's First Middle Child is "taking law school seriously." She's been attending Georgetown Law since last August.
Some began to speculate last month that the pair had split based on Trump's social-media presence. Mechanic suddenly stopped showing up in her photos, while there was a noticeable uptick in solo pictures posed in front of a balcony. (The Iranians trolling her about her dad's Persian Gulf comments appear to have given up.)
This comes a week after news that Donald Trump Jr. and his wife are divorcing. Someone get this family a post-breakup ukulele, stat.