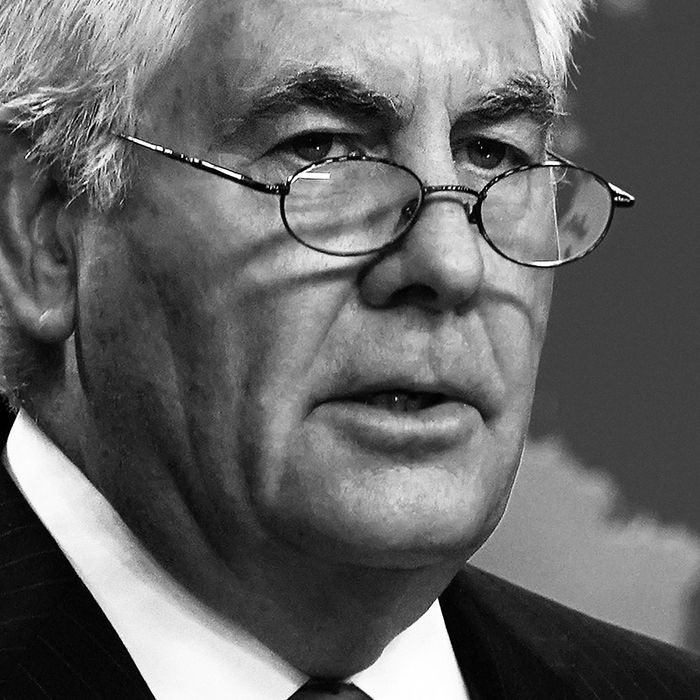 Outgoing Secretary of State Rex Tillerson.
Photo: Alex Wong/Getty Images
News of Rex Tillerson's firing just keeps getting more and more embarrassing for the outgoing secretary of State. Not only did he find out that he was officially canned via Twitter, but according to a fun new report from the Daily Beast, Chief of Staff John Kelly warned Tillerson that Trump was going to fire him while the secretary was on the toilet.
Kelly doesn't seem to care too much about Tillerson's already-diminished dignity, given the chief of staff told this humiliating story to a room full of reporters at the White House yesterday (though in Kelly's defense, this meeting was off-the-record). According to three sources who described the story to the Daily Beast, the anecdote "stunned" everyone in the room.
Tillerson, Kelly told the room, was suffering from a stomach bug during a diplomatic swing through Africa, and was using a toilet when Kelly broke the news to him.




Sources were stunned that, even in an off-record setting, Kelly would say this—to a room filled with White House officials and political reporters—about Tillerson, who does not officially leave the State Department until the end of the month.
All of this gives a totally new meaning to getting "Tillersoned."