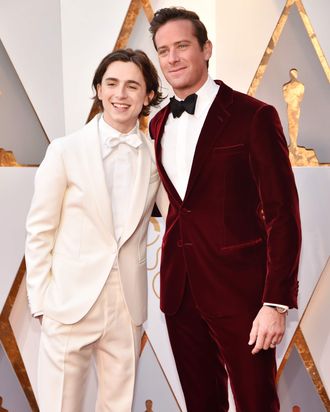 Timothée Chalamet and Armie Hamer.
Photo: Kevin Mazur/WireImage
If you're mourning the end of Call Me by Your Name and eagerly awaiting the rumored sequels, Armie Hammer and Timothée Chalamet are here to soothe your broken heart. The two, who have always been incredibly friendly on social media and in real life, decided to throw a bone to the countless Elio and Oliver shippers on tumblr by posing together on the Oscars 2018 red carpet.
Since it's the Academy Awards, their clothes are a marked upgrade from the short shorts and '80s-tinged styles from the movie. Hammer, who has been living in his tracksuits for the past month thankfully decided to ditch Le Trackie for the evening. He didn't stray too far from that Juicy Couture lifestyle though. Tonight he chose a nice and plush Giorgio Armani velvet suit that features his name stitched into the jacket.
Hammer also posted a picture on Instagram of his pre-Oscar glam session. The image featured a ton of makeup, hair products, curling irons, and basically everything our beauty routines could possibly dream of. He added the hashtag "#effortlessbeauty" but pointed out that only one-eighth of the products were for him (we assume the rest were for his wife, but who knows).
Meanwhile Chalamet, who has proved himself to really love fashion this awards season, didn't disappoint. He decided to stick his tried and true favorite label: Berluti. His all-white tuxedo looks especially angelic against his porcelain skin and perfectly floppy hair.
So fire up the Sufjan Stevens and try not to cry too much at their well-dressed red-carpet moment. And you fan-fiction writers out there, you're welcome.