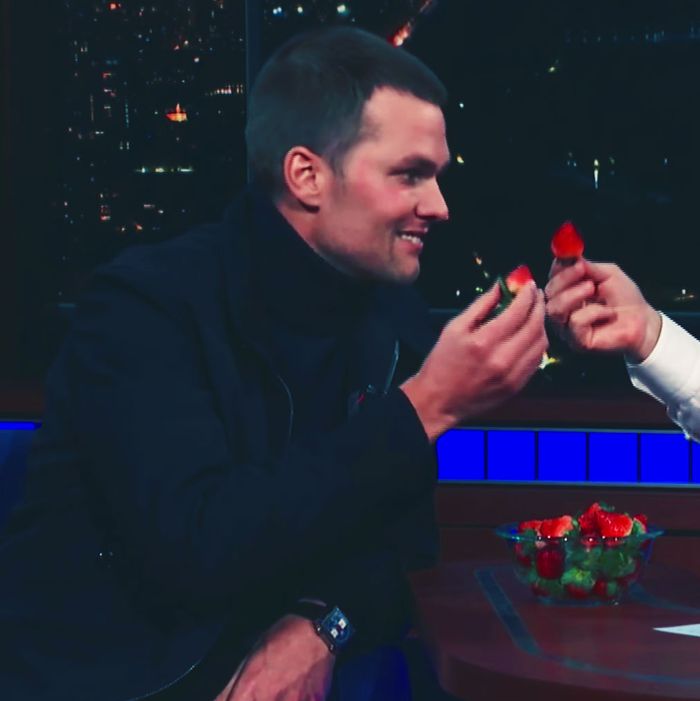 Tom Brady and Stephen Colbert with strawberries.
Photo: CBS
The moment we thought would never arrive has finally come: Tom Brady ate his first-ever strawberry.
The 40-year-old New England Patriots quarterback famously told the Cut in 2016 that he had never tried a strawberry in his life: "I've never eaten a strawberry in my life. I have no desire to do that." Never, we asked? "Absolutely not," Brady vehemently replied.
The revelation shocked the world, basically. We already knew that he was on an ultrarestrictive diet (no white sugar, caffeine, fungus, MSG, dairy, nightshade vegetables, olive oil, and more), but strawberries are something that everyone in the U.S. who isn't allergic to strawberries has at least probably tried in their lifetime. Except Brady, it turns out.
But during a Monday appearance on the Late Show with Stephen Colbert, Brady did the unthinkable (to promote his book The TB12 Method) and tried a strawberry.
First, the athlete said, "I hate strawberries." He went on to clarify, "I hate the smell of strawberries." Colbert, of course, then challenged him to try a strawberry from a bowl of the fruit on his desk … and Brady succumbed to peer pressure and took a bite of one (and visibly grimaced).
Wiping his mouth and hands, the athlete said, "Not that bad," asked his mom if she was proud of him for finally trying the very normal and easily accessible fruit, and then he chugged a pint of beer!
Someone please check on Gisele Bündchen during this difficult time.