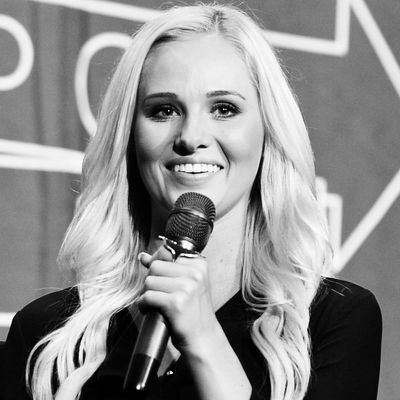 Fox News contributor Tomi Lahren.
Photo: Joshua Blanchard/Getty Images for Politicon
While Saturday's turnout for the March for Our Lives gun-violence protests included vocal celebrity supporters like Paul McCartney and Cher (and Jared Kushner's brother), Fox News contributor Tomi Lahren leaned into the weekend by shilling yoga pants on Instagram. But in true #NotYourAverageGunGirl fashion, she made sure to spotlight her Alexo Athletica gear's numerous pockets by shoving a gun into one of them.
Which is the intended use: Alexo Athletica's rallying cry is #CarryWithConfidence, and its Instagram is a perfect window into exactly who it wants to include in its heat-packing sisterhood. It's a match made in heaven, as the brand's website proudly proclaims, "Alexo will never back down from supporting a woman's right to choose how she defends herself while striving to bring the best in fashionable, functional active carry-wear to the market." Not surprisingly, the line was co-founded by NRATV host Amy Robbins. (It's unclear if the post was sponsored; the Cut has reached out to confirm.)
Lahren, whose insights into the gun-violence debate include antagonizing school-shooting survivors on Twitter, touts both the inevitability of assault and a gun-over-phone prioritization in her snappy caption. "Ladies," don't just settle for regular, pocketless yoga pants — drop $99 for a pair of leggings that will hold your Glock in place while you dip into downward dog.