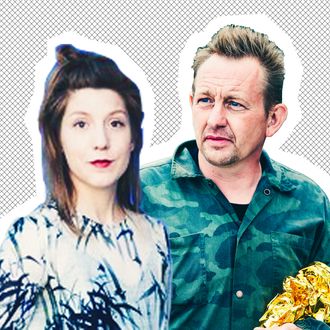 Kim Wall, Peter Madsen.
Photo: Courtesy of Kim-Wall.com; Getty Images
Peter Madsen, the Danish inventor accused of killing journalist Kim Wall, went on trial in Copenhagen today.
Madsen is denying his guilt, The Guardian reports, saying in court that, "There is nothing worse that can happen to a person like me than to sail out with another person and return alone."
Wall, 30, went missing in August of last year after boarding Madsen's homemade submarine for a story she was writing about him. Her body, dismembered and covered in stab wounds, was recovered near the Copenhagen harbor in the following weeks. Although he initially denied any wrongdoing, he eventually told police that she died in an accident onboard and that he "buried her at sea." He also admitted to dismembering her body.
Here's how he explained his changing story in court:
"I was only thinking about Kim Wall's relatives," he said. "It's a very, very horrible story. I knew she was dead and she would not come back. I had only one purpose and it was to spare the relatives as much as possible."
"I wanted to spare the world and her family from the terrible thing that had happened," he added.
Through the course of their investigation, police discovered material on Madsen's computer featuring "women being tortured and killed." He had also texted a friend a fantasy of "inviting a friend to the submarine" and "cutting her up." Per The Guardian, the prosecution is arguing that Madsen killed Wall "to fulfill his violent sexual fantasies."
A verdict in this case is expected on April 25.