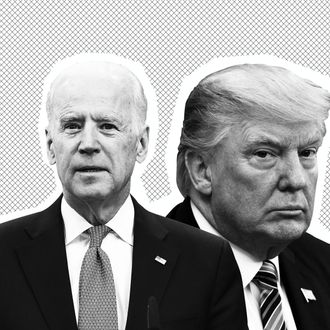 It's on.
Photo: Getty Images
We are never more blessed than when real-life Joe Biden and Onion Joe Biden converge — which is exactly what happened at an anti-sexual-assault rally on Tuesday, when Biden shared that if he and President Trump were in high school, he'd "take him behind the gym and beat the hell out of him."
But forget high school — Trump is ready to rumble now. In a tweet sent at 5:19 a.m. on Thursday morning, he said that "Crazy Joe Biden" would "go down fast and hard, crying all the way" in a fight.
On one hand, our reality is completely insane right now. On the other, selling tickets to this year's septuagenarian Mayweather-McGregor fight is one lucrative way to clear the national debt.