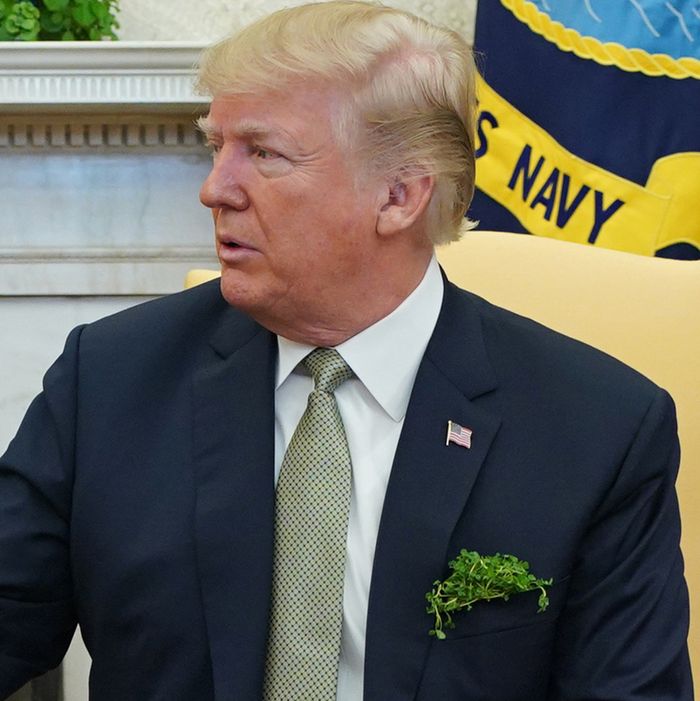 Donald Trump.
Photo: Mandel Ngan/AFP/Getty Images
Today, eagle-eyed viewers and also everyone else noticed that Trump appeared in public with a big ol' clump of leafy greens sticking out of his jacket pocket.
What was happening? Yes, this is a man who holds his tie together with scotch tape and was once photographed in a mismatched suit, but accidentally using a bunch of arugula and raw kale instead of a pocket square? (Then again, he is reported to be eating more salads lately.)
There is, however, an explanation for this — and it sadly has nothing to do with "Rex, eat the salad"-gate.
Trump was welcoming Irish Prime Minister Leo Varadkar* to the White House, and both leaders have shamrocks in their pockets for the visit. (Obama's been photographed with a similar arrangement.) Later this evening, Kenny will present Trump with a bowl of shamrocks for the annual St. Patrick's Day shamrock ceremony, a tradition that's taken place since the Truman administration.
It's just like that famous Irish blessing: May the road rise up to meet you, may the wind be always at your back, may you give the Apprentice guy a bunch of pocket shamrocks.
*This post has been corrected to show that Leo Varadkar is the Irish PM, not Enda Kenny.