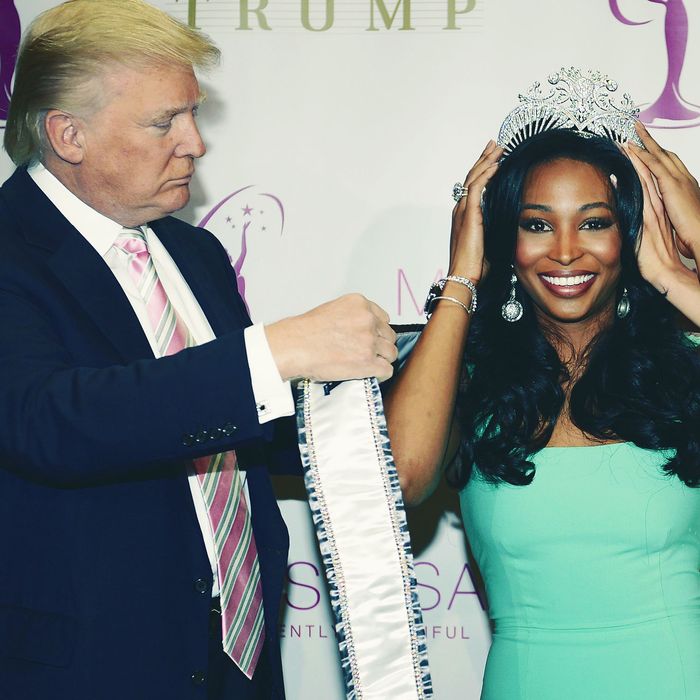 Donald Trump with beauty pageant contestants.
Photo: Timothy A. Clary/AFP/Getty Images
In an excerpt from their upcoming book Russian Roulette, journalists Michael Isikoff and David Corn give an inside look at Donald Trump's 2013 trip to Russia for the Miss Universe pageant (you know, the trip that reportedly promoted the Steele Dossier and rumored golden shower). The excerpt, published Thursday on Mother Jones, exposes Trump's alleged racism toward contestants of his beauty pageant, including the claim that he vetoed women-of-color contestants if he thought there were "too many" competing.
Trump's pageants always had an underlying rule that he be allowed to review the contestants before the actual event, which gave him the opportunity to overrule judge's selections and place the contestants he wanted among the finalists. Isikoff and Corn write that Trump would frequently "toss out finalists" and replace them with other contestants he preferred.
"In short, no woman was a finalist until Trump said so," the excerpt reads. One Miss Universe staffer told the writers, "If there were too many women of color, he would make changes." The excerpt continues:
Another Miss Universe staffer recalled, "He often thought a woman was too ethnic or too dark-skinned. He had a particular type of woman he thought was a winner. Others were too ethnic. He liked a type. There was Olivia Culpo, Dayanara Torres [the 1993 winner], and, no surprise, East European women."
Additionally, another staffer noted, "If he didn't like a woman because she looked too ethnic, you could sometimes persuade him by telling him she was a princess and married to a football player." Trump would also reportedly reject women from competing in the beauty pageant if they "snubbed his advances," according to the excerpt.
Read the full excerpt here.