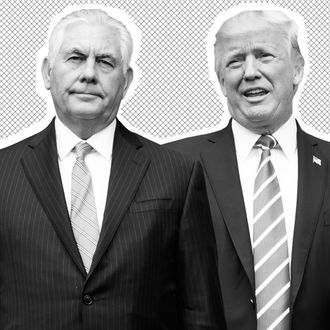 Tillerson and Trump.
Photo: Getty Images
For instance, The Wall Street Journal spoke to sources who told them a story involving Trump, Tillerson, a meeting with the Chinese, and some uncomfortable salad drama:
Mr. Trump, in the midst of a five-country tour of Asia, grew concerned the untouched greens would offend the Chinese, according to people familiar with the matter. So he ordered Mr. Tillerson to start. "Rex," he said, "eat the salad."
Tillerson is said to have "laughed off the remark," giving us the gritty reboot of "women laughing alone with salad" we never asked for.