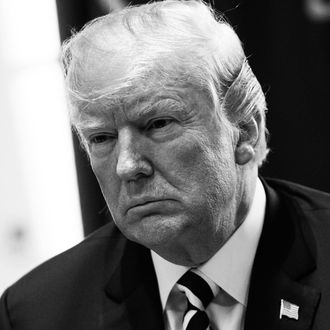 Regrets, I've had a few.
Photo: Kevin Dietsch-Pool/Getty Images
It's long been rumored that Donald Trump never wanted to be president, a rumor he's been doing an excellent job of quashing by … telling audiences that he would tell his younger self not to run for president.
The remarks came during Generation Next, Thursday's White House summit for millennials. Trump was in conversation with Charlie Kirk, the founder of conservative campus group Turning Point USA, which is best known for creating professor watch lists and wearing actual diapers to own the libs.
When Kirk asked "what advice would you give to the 25-year-old Donald Trump knowing what you know today," Trump answered "don't run for president." He then continued by relaying a recent conversation during which he lamented that "all my life I got the greatest publicity … until I ran for office."
At least we're on the same page here.