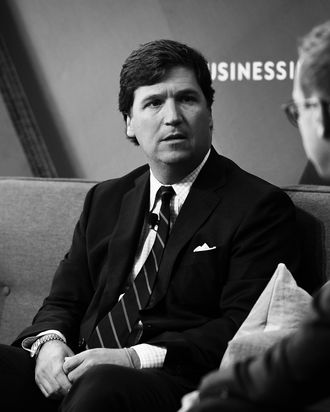 Tucker Carlson.
Photo: Roy Rochlin/Getty Images
At last, Tucker Carlson is here to help American men get the attention they deserve. On his program Tuesday night, the Fox News host teased his new series, launching tonight, about a "largely ignored disaster": the lack of messaging around male empowerment.
Per TheWrap, Carlson is calling his program Men in America, which will air through the end of March to coincide with Women's History Month. The show's inaugural guest be the controversial psychologist and culture-warrior Jordan Peterson, who recently published a self-help book with revolutionary tips like "clean your room."
"We hear a lot about female empowerment in this country, but for some reason, you almost never hear about how men are doing in America," said Carlson said, who promises that viewers will be "stunned" by his much-needed series.
He continued: "We took a close look at the numbers and we found them so shocking that we're devoting the month of March to a special series on men in America. You'll be stunned by the scope of the crisis. We were. It's a largely ignored disaster and it is a disaster. It affects every person in America."
Happy Women's History Month!