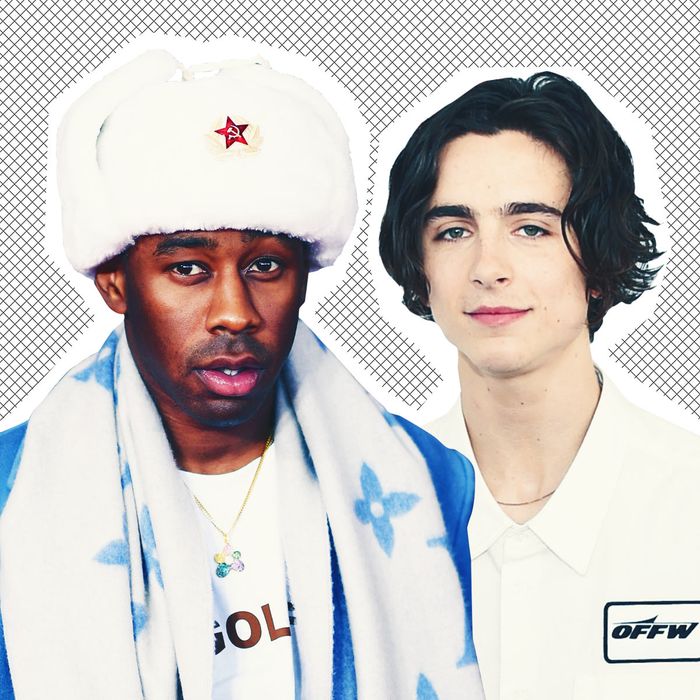 Tyler, the Creator and Timothée Chalamet.
Look, there's something about Timothée Chalamet. Whether you're crushing on his pretentious-sounding name (Timo-tay), his style in Call Me by Your Name, his hair, or his talent as an actor, you're most likely crushing on something. That includes rapper Tyler, the Creator, who shouted out Timothée in his new song "Okra."
"Okra" is a surprise song released by Tyler, the Creator last night in which he shouts out Mary-Kate Olsen (sorry, Ashley), spending $30,000 on Balenciaga luggage, and the smooth, poreless, glowy complexion of Chalamet. He says, "Tell Tim Chalamet to come get at me, skin glowin', clear of acne." Which, if I'm not mistaken, is the rap equivalent of, "How do you get your skin so good?"
Tyler's song is in direct contrast to the pro-acne message that Justin Bieber was promoting last week. Just a few weeks ago, Bieber said in a video that, "Pimples are in." Look, Bieber, nothing's official till you've written a song about it. Until then, let's call in a big-time beauty influencer to settle the debate — John Mayer, could you please weigh in?