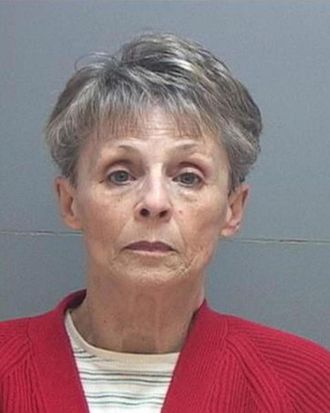 Linda Tracy Gillman.
Photo: Salt Lake County Jail
We all have our vices: eating too much sugar, for instance, or binging Netflix way past our bedtimes. For one elderly Utah woman, it's a bit more complicated: she allegedly can't stop hiring hit men.
Linda Tracy Gillman, 70, was charged on Friday with hiring her third hitman in two years and now faces anywhere from five years to life in prison, KSL reports.
This all started in December 2016, when she allegedly attempted to hire her employee and tenant to kill her ex-husband and his new wife. The man said Gillman gave him $5,000 and promised him $100,000 more once the deed was done and she had her ex's life insurance money; instead, he went to the police and she was charged with criminal solicitation.
Then, in June of last year, while she was in jail, police say she then approached another inmate — who she believed was associated with a white supremacist gang — trying to get him to find a way to off the first attempted hit man. She allegedly said it "would make all her dreams come true," among other things:
"Gillman referred to herself as 'the bank,' and said that she 'could make everything happen'" if he would take care of the man who went to the police, charging documents say.
That case was dismissed but, on Friday, the Salt Lake County District Attorney's Office accused her of trying to hire another hit man from jail a few weeks ago:
She wanted to have the prosecution's key witness in her original case murdered, as well as an attorney, according to court documents.
D.A. Sim Gill said, "I've never seen anything like it."
It's just like the saying goes: Hire a hit man once, shame on you. Hire a hit man three times, the shame is still on you.