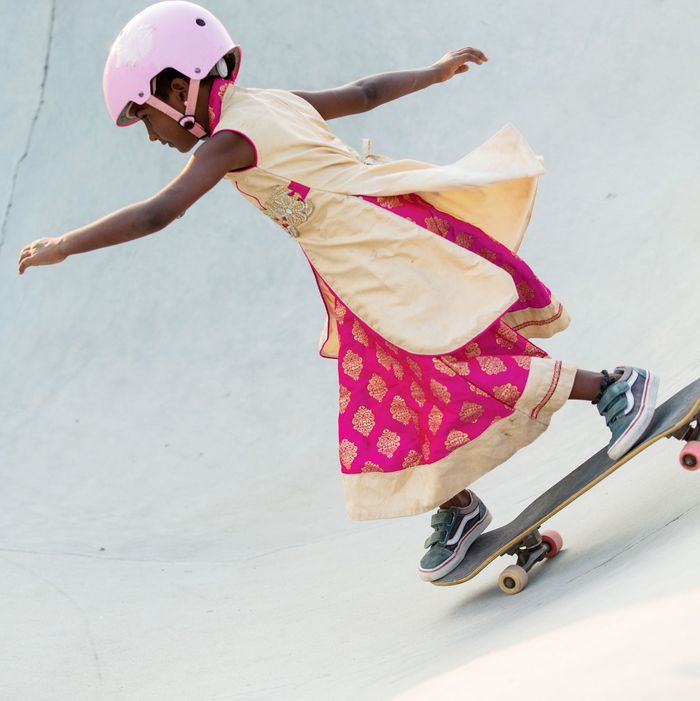 On International Women's Day, Vans is planning to host 100 different skate clinics around the world in an effort to teach more women and girls how to skateboard. Your skill level doesn't matter — if you simply want to learn how to stand up on a board, March 8 is your chance. Participating cities include Brooklyn, Chicago, London, St. Petersburg, Shanghai, Bangalore, São Paulo, and Mexico City.
In tandem with this effort, Vans also partnered with Girls Skate India — a collective founded by India's first professional female skateboarder, Atita Verghese — for the second installment of its This Is Off the Wall campaign. The brand flew professional skateboarder Lizzie Armanto out to India for a special clinic, and she was greeted by Girls Skate India like a pop star.
"We wanted to tell stories about the communities that grow around creative endeavors, whether it's skateboarding, art, or music, these activities connect people with one another," said Jamie Reilly, Vans vice president of Global Creative, of the campaign.
An accompanying film shows how Girls Skate India is helping young women gain confidence through skateboarding, as the activity provides an outlet for them to express themselves.
Watch the full video, below, and find a full list of Girls Skate events worldwide, here.