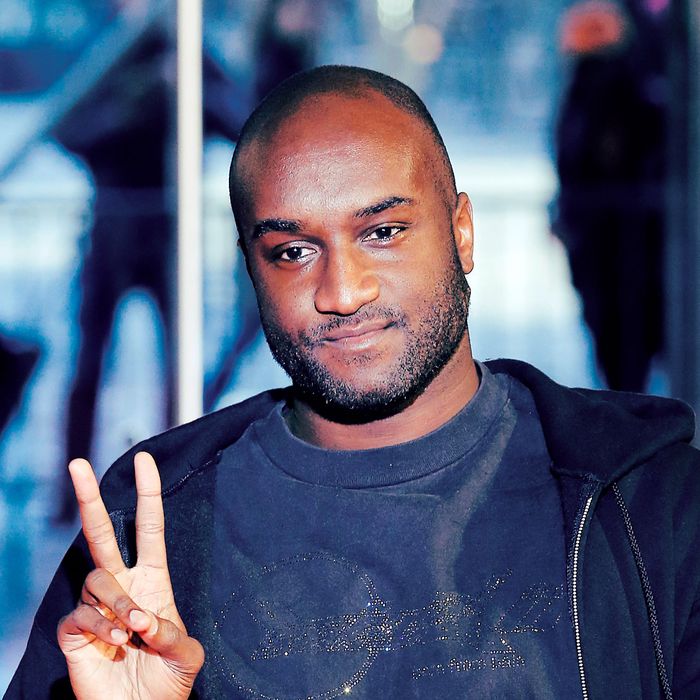 Virgil Abloh.
Photo: Thierry Chesnot / Stringer/2018 Getty Images
Louis Vuitton has caught the designer of the moment to head their menswear collection — Virgil Abloh. The Off-White founder and designer, known for his collaborations and zeitgeist-defining taste, will be the first African-American artistic director at the French house.
Abloh told the New York Times, "This opportunity to think through what the next chapter of design and luxury will mean at a brand that represents the pinnacle of luxury was always a goal in my wildest dreams. And to show a younger generation that there is no one way anyone in this kind of position has to look is a fantastically modern spirit in which to start."
He's one of the best at creating hype for hypebeasts. At Paris Fashion Week last month, there was almost a riot to get into his show. When a young fan couldn't buy an Off-White shirt, Abloh wrote "This is an Off-White shirt" in sharpie on his tee. He's Kanye West's "creative director," but also partnered with Ikea to design a new Frakta bag.
Abloh will still design for Off-White and work with Kanye West as creative director, but seems to be focusing on Vuitton. He said that his first label is "for the 17-year-old version of myself, whereas Vuitton is for the 37-year-old I am today." Menswear is certainly getting more and more interesting.