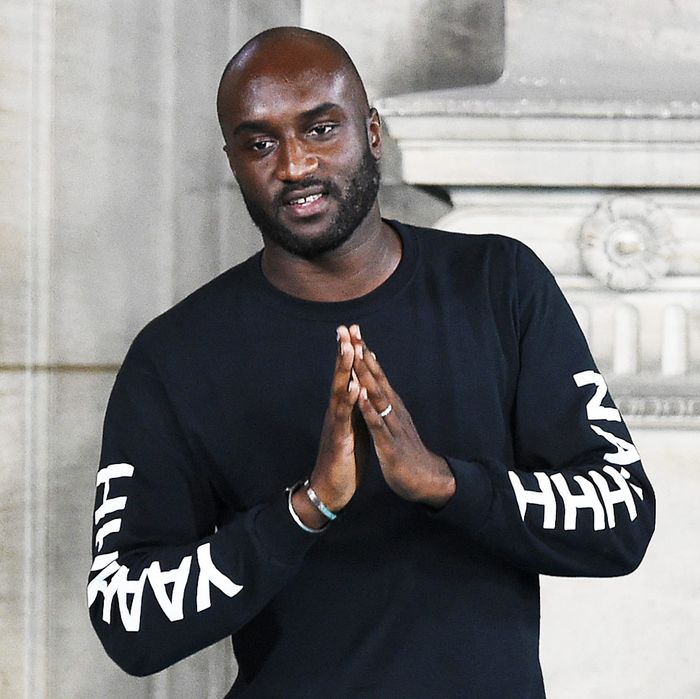 Photo: Kristy Sparow/Getty Images
After Louis Vuitton announced on Monday that Virgil Abloh would be its next artistic director of men's wear, I saw the same sentiment expressed over and over and over: "Dreams really do come true!" Abloh himself told the Times that he'd only ever imagined getting his new gig in his "wildest dreams."
Similar responses echoed across Twitter. "After the news of Virgil, I bet everyone woke up working extra hard this morning on their dreams," wrote Heron Preston, Abloh's longtime collaborator and friend.
At first glance, this is hardly a surprise: Abloh has made no secret of his affection for the brand, and it's a hugely prestigious position. But it's surprisingly rare to hear designers talk about achieving their dream jobs, despite the fact that the major houses seem to switch leadership left and right. This is partly due to fashion's distaste for sincerity, but it's also a symptom of an industry where the traditional path to success is slow and hierarchical. When Abloh and his supporters break ranks and use the phrase "dream job," it's a sign of how new and different his career path has been — and what it means to work your way up in an industry that's constantly changing.
Virgil Abloh's story is indeed the stuff dreams are made of. The 37-year-old designer is a first-generation Ghanaian-American raised in Chicago, Illinois, with no formal fashion education. Instead, he got his undergraduate degree in civil engineering at the University of Wisconsin–Madison, followed by a master's in architecture at the Illinois Institute of Technology. Now, he's the first African-American artistic director of Louis Vuitton, and one of the few black designers at the top of a French heritage house.
By contrast, a designer with a long history of working in fashion perhaps has less to celebrate upon getting a new job. When Nicolas Ghesquière was appointed womenwear's designer at Vuitton in 2013, he was coming from Balenciaga. (Still, he was "so happy.") Fashion fancies itself a meritocracy, but it's closer to an autocracy, with the same names tossed around each time a new job opens. If you're one of the select few, it's tempting to think you've earned it. You've climbed the ladder; you've gotten coffee for those who came before you; your dues have been paid; and now you're reaping your reward. Abloh, on the other hand, doesn't have that insider's sense of inevitability.
Abloh is not blind to his doubters. Because of his nontraditional fashion background, some attribute Abloh's success in the industry to his proximity to Kanye West (and subsequently his legion of "hypebeast" fans, who don't know the difference between good design and a graphic T-shirt). If you believe that to be true, Abloh's success might indicate that the fashion "dream job" is even further out of reach for most people. To make it today, you have to be best friends with a superstar and have at least 1 million followers.
"The bourgeoisie elite have finally given the black man from Chicago a seat at the table. But is it because he's a great designer?" asks Recho Omondi, a young designer herself. "Maybe not. But today, communication supersedes skill set, and Virgil is one hell of a marketer. His ascension just may prove perception and public relations are more valuable than product."
If you're social-media shy in 2018 and don't feel like selling your soul to the capitalist devil, you might not be as well-positioned for success in fashion — or any job for that matter — as someone who is. But Abloh's ascension also proves that there are no rules. You can be anyone from anywhere and still make it.
"I believe we now live in a time where your ability to be versatile, wear many hats, and most importantly, be a problem-solver is where your value lies," says Salehe Bembury, who studied industrial design and was recently appointed Versace's head of sneaker design.
"Virgil has also made a concerted effort to speak to, educate, and involve the youth with his initiatives," Bembury adds. "If he's an example of a 'dream come true,' it's because he's positioned himself as a role model that kids can see themselves in."
Abloh has proven that he knows what people, specifically young people, want. And he's willing to feed it to them by the spoonful. You don't become the leader of a major French house at the age of 37 by doing anything else. Abloh played the game all along to get to where he wants to go. In that way, perhaps he's not so different from someone who came up at a big house.
"All of my output has been to make a compelling case for me to take on a role such as this," Abloh told the Times after his appointment to Vuitton.
Whether Abloh will continue to play the game in his new job, as opposed to doing something truly new and maybe a little risky, is another question. But for now, he's achieved his dream — and no one can take that from him.