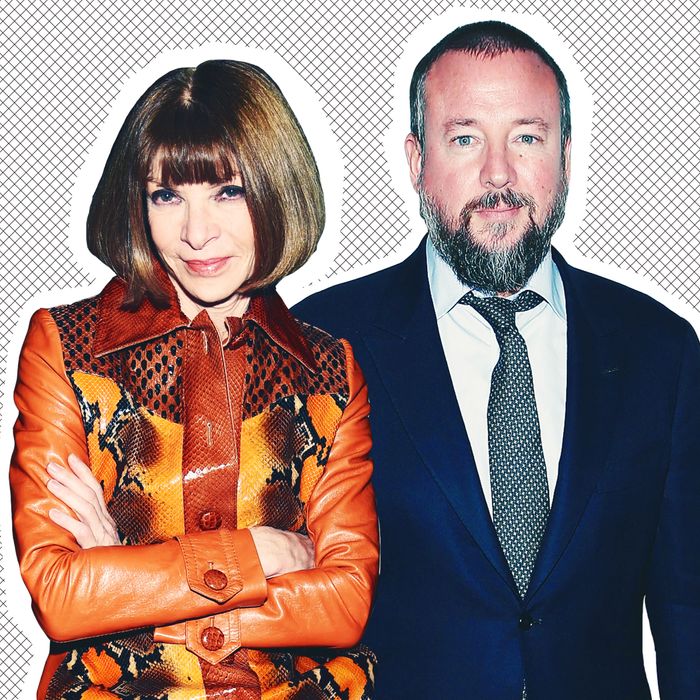 Anna Wintour and Shane Smith.
Photo: Getty Images
Condé Nast is making quite a trend out of putting controversial relationships on "indefinite hold."
Following a Times report in January that accused fashion photographers Bruce Weber and Mario Testino of sexual harassment, Vogue editor-in-chief Anna Wintour announced that the company's working relationship with both photographers would be put "on hold for the foreseeable future."
The same went for photographer Patrick Demarchelier, whose misconduct was exposed in a Boston Globe Spotlight report just a few weeks ago.
On Wednesday, WWD reported that, per a joint statement, both Vogue and Vice have "mutually decided to delay their editorial collaboration" called Project Vs, which was announced in October and scheduled to launch yesterday.
In January, the Times reported a history of sexual misconduct at Vice, raising questions about whether companies like Condé Nast should continue to align themselves with the Brooklyn-based media company.
Earlier this month, Vogue told Digiday that it felt "optimistic about Vice's significant commitments to a respectful, inclusive and equal workplace" and was "encouraged by the collaborative efforts their editorial team has shown during the past several months." However, according to WWD sources, sponsors of the collaboration, like Gap, ultimately backed out.
Condé Nast's commitment to a fair trial is respectable, but after all of this, perhaps it's time to start taking a stronger stance.