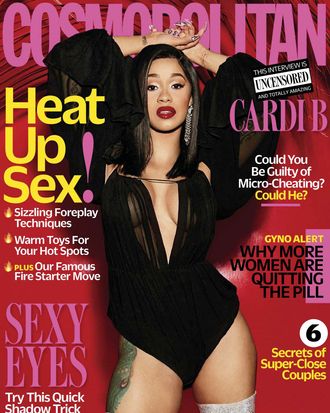 Walmart stores will no longer feature Cosmopolitan in its checkout lines, the result of a long-running campaign by a group that has made targeting the magazine one of its top priorities.
In a press release by the National Center on Sexual Exploitation (NCOSE) featuring the news, executive director Dawn Hawkins states, "This is what real change looks like in our #MeToo culture, and NCOSE is proud to work with a major corporation like Walmart to combat sexually exploitative influences in our society."
"Further, Cosmo targets young girls by placing former Disney stars on its covers, despite the enclosed sexually erotic articles which describe risky sexual acts like public, intoxicated, or anal sex in detail," she continues. "Customers should not be forced to be exposed to this content when they are trying to check out at the store."
NCOSE was founded in the early 1960s by interfaith clergy members as a group called "Morality in Media" (it changed its name in 2015). It bills itself as "the leading national organization exposing the links between all forms of sexual exploitation such as child sexual abuse, prostitution, sex trafficking and the public health crisis of pornography." Along with the Cosmo campaign, the socially conservative group has also waged an aggressive war on porn, as detailed in this Jezebel piece from last year.
One of the most vocal backers of NCOSE's fight against Cosmo is actually Victoria Hearst, whose family owns the magazine's parent company. Per a 2015 New York Post article, she explained her motivations as: "God told me to work to get Cosmo out of the hands of children, so that's what I am doing."
The Cut has reached out to Cosmopolitan and Walmart, and will update this post with their comments.
Update, 4:52 p.m.: A Walmart spokesperson tells the Cut, "As with all products in our store, we continue to evaluate our assortment and make changes. Walmart will continue to offer Cosmopolitan to customers that wish to purchase the magazine, but it will no longer be located in the checkout aisles. While this was primarily a business decision, the concerns raised were heard."